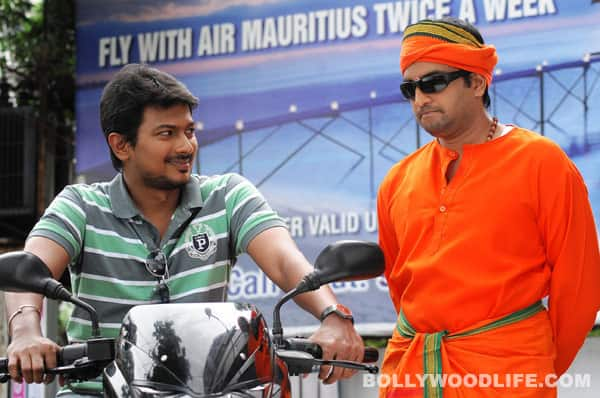 A case has been filed in the Madras High Court by Hindu Dharma Sakthi, a Chennai-based organisation, against Oru Kal Oru Kannadi, in which Udhayanidhi Stalin debuts as hero
In its writ petition,the  Hindu Dharma Sakthi said the film Oru Kal Oru Kannadi's promos aired on television channels portrayed a sanyasi named Uthukottai Ulagananda in a poor light. The background song and the dialogues hurt Hindu sentiments, the petition said and sought for the removal of those specific scenes. In its counter petition, the Censor Board said its examining committee has cleared the movie recently and there was no scene which hurt the sentiments of Hindus.
Orders on the case have been reserved for Monday by Justice V K Sharma. Meanwhile, in a breather to Udhayanidhi Stalin, the Madras High court  quashed the criminal proceedings against the actor-producer and his father – former deputy chief minister M K Stalin in a land grab case registered against them last November.
Also Read:
DEV, SON OF MUDDE GOWDA movie review: Fun-filled popcorn film