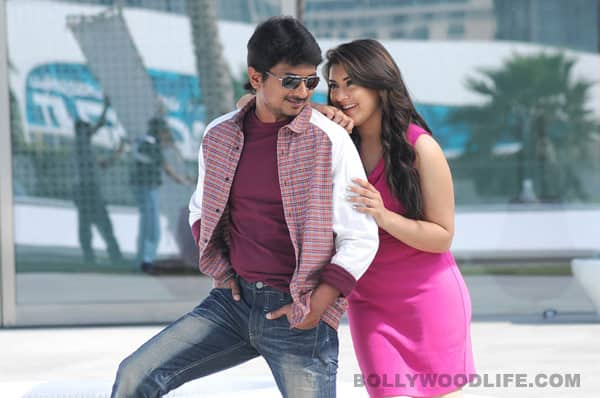 Success in films, like in sport, can be a burden, often weighing down the winner. Director M Rajesh of Siva Manasula Sakthi-fame seems to have bucked the trend and scored a hattrick with Oru Kal Oru Kannadi
There was a lot riding on the film, Oru Kal Oru Kannadi even before it released. Apart from the fact that Director Rajesh was hoping for three back-to-back hits, the film was high-profile because Udhayanidhi Stalin (grandson of former Chief Minister M Karunanidhi and son of former Deputy CM M K Stalin) was attempting to show he was as good an actor as he was a producer.If he had any first-timer nerves, he seems to have overcome them and come up with a plausible performance while shining in the company of the boisterous Santhanam, who is at his best with his witty repartee and one-liners. As in SMS and Boss Engira Baskaran, Santhanam is the main attraction and carries the film on his shoulders to a large extent. Like in his earlier two films, the director has blended romance and comedy and come up trumps. Rajesh certainly seems to have his finger on the pulse of the young audience and has crafted a youthful movie again. Also, Udhayanidhi has proved that he is a smart producer, choosing a feel-good subject to launch himself as an actor.
Hansika Motwani is the heroine and does what is expected of her – to look glamorous and romance the hero. Harris Jayaraj's music is another plus point for OK OK as he comes up with romantic tunes to set the tone of the film. Credit must also go to Saranya Ponvannan as Udhayanidhi's mother, Azhagam Perumal (the hero's father) and Shayaji Shinde, a seasoned performer, as Hansika's father.
The story isn't novel, but the handling makes an impact. The hero, Saravanan (Udhayanidhi), is a fun-loving youth who goes about enjoying life with buddy Parthasarathy (Santhanam). All is well till the he chances upon Meera (Hansika) at a traffic signal and falls for her, almost immediately. Subsequently, he approaches her and proposes to her. Meera promptly rejects his overtures. Then, it becomes a cat-and-mouse game as Saravanan goes all out, in his friend's company, to win over the heroine's love. How he achieves his motive forms the rest of the film. There is not a single dull moment when Santhanam is around and Udhayanidhi proves to be more than an adequate foil. A scene involving the twosome on board an aircraft is one to watch out for.
Sneha, Arya and Andrea Jeremiah appear in cameo roles towards the end of the film which, as in Rajesh's two earlier movies, concludes on a happy note. Balasubramaniam's cinematography and Vivek Harshan's crisp editing add to the value of OK OK. With another feel-good entertainer Rajesh seems to have achieved his goal of entertaining the audiences, at a time when filmmakers are finding it rather difficult to achieve box office success or critical acclaim. But he may wish to avoid repeating himself in his next film.
ALSO READ:
'Oru Kal Oru Kannadi' lands in legal trouble