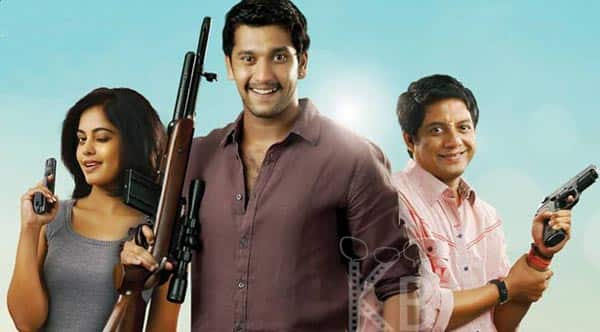 Gaana Bala's semi kuthu song for Oru Kanniyum Moonu Kalavanigalum
Gaana Bala in his inimitable style pens and sings Bachelor Enekke, Premji Amaren sings the first few lines; Premji's lines can be read as introduction for Gaana Bala's questions in the song.
Chimbu Devan who has made comedy entertainers has directed the movie starring Arulnithi, Bindhu Madhavi, Ashrita Shetty and Bagavathi Perumal. If the name Bagavathi Perumal doesn't ring a bell, the name 'Bugs' from the movie Naduvula Konjam Pakkatha Kaanom should.
The title sort of reminds us of a classic Bhagyaraj entertainer Indru Poi Naalai Vaa, the recent hit Kanna Laddu Thinna Aasaiya was also based on the same movie. The story is simple – there is one lovely woman in the neighborhood and three men try to woo the lady, finally she falls for the hero, in this case Arulnithi.
It is too easy to guess, let us see what Chimbu Devan does with Oru Kanniyum Moonu Kalavanigalum. But for now, it is time for Gaana Bala's song…