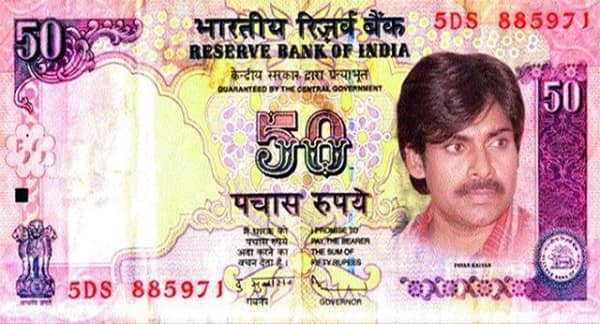 On the occasion of power star's birthday, a few fans have circulated an image of Rs 50 note with Gabbar Singh actor's picture in place of Mahatma Gandhi's image
Pawan Kalyan is perhaps the most followed actor in Tollywood. So on the occasion of his birthday, it is expected of the fans to have some fun celebrating the 43rd birthday of their favourite star. But it looks like a few over enthusiastic fans crossed the line as they posted a picture online with Attarintiki Daredi star's image superimposed over Mahatma Gandhi's image on a Rs 50 note.
That's not all, the picture also has a tag line quoting," If Pawan Kalyan would have been born 50 years ago, his image would have been in Gandhi's place (sic)." This morphed image of Indian currency seems to have offended two Hyderabad-based lawyers, who have lodged the complaint with LB Nagar Police Station, Hyderabad. The complaint lodgers said, "The picture is blasphemous. To appropriate a movie star with Mahatma Gandhi is unacceptable and we demand that the picture be removed from all the websites immediately and punish those responsible for the act to be punished including Pawan Kalyan."
However a top city lawyer Balaji, said,"If the morphed note was done with Pawan's consent, he is liable for punishment, but not otherwise. However, the person who has done this can face charges." What's interesting about the morphed note saga is that, this is not the first time such images have hit the internet. Earlier important sports and film icons like Sachin Tendulkar, Rajinikanth and Tollywood's very own funny man Brahmanandam had featured in morphed currency notes.
Are the complaint lodgers taking the morphed image too seriously? Or was it wrong on the part of the over enthusiastic fans to superimpose power star's image on Gandhi's picture on currency note? What do you think Bollywoodlifers?