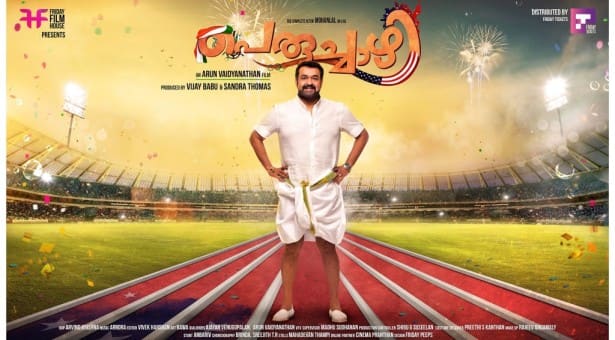 The makers of the complete actor's much awaited film Peruchazhi, released the movie teaser on Mohanlal's 54th birthday
As the versatile actor Mohanlal celebrated his 54th birthday yesterday, the producers of his upcoming flick Peruchazhi unveiled the film's 34 second teaser, much to the delight of the fans. The film produced by Friday Film House and directed by Arun Vaidyanathan is said to be a political satire with Padma Shri awardee Mohanlal in the lead role.
The teaser opens up with silhouette of Mohanlal standing in front of a large waving American flag. We see Mohanlal in a cool new avatar donning a superman costume with an 'M' inscribed on the chest instead of the traditional 'S' which the world relates to Superman. The short teaser has already grabbed eyeballs with its smart yet hilarious idea of portraying Mohanlal as superhero.
 Peruchazhi has lately been in the news for being the only Malayalam film to go for a 30-day shoot to the United States. The film is said to be based completely in USA, so parts of the movie are said to be shot at a set in Kollam which resembled US.  The makers made Mohanlal's birthday special with the release of their film's teaser.
Mohanlal, who is supposed to be playing a politician in the film, has played so many different characters throughout his career except for the role of superhero. We bet fans would love to see the superstar clad in superhero costume and deliver from hefty punches on baddies. After all Mohanlal is the Superman of Mollywood. Isn't he?
Watch the fun Peruchazhi teaser!