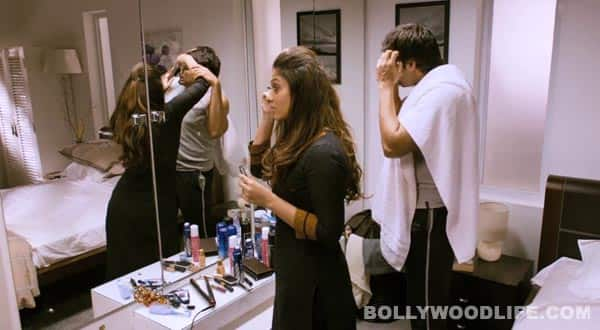 The teaser starts with, "There is life after love failure"… "There is love after love failure"…Well, now that has definitely got us curious!
Directed by Atlee, a former associate of Shankar, Raja Rani is produced by Fox Star in association with leading filmmaker AR Murugadoss' ARM Productions.  Take a look at the 45-second teaser of the movie and see if you can spot any chemistry between the lead pair – Arya and Nayanthara – in this bedroom scene with a difference.
The story doing the rounds in Kollywood – that Arya and Nayanthara are now an item – gathered momentum when the press meet invite of Raja Rani, featuring the two actors, was sent out; the card was designed like a wedding invitation and had the lines 'Arya Weds Nayanthara'.  While some dismissed it as a mere publicity stunt to promote the movie, others said this was a prelude to things to come.
"Arya and Nayanthara are very close these days. There is every chance that their friendship could turn into a serious affair. So, the invitation design actually drops a hint," sources said.
[jwplayer mediaid="218672″]