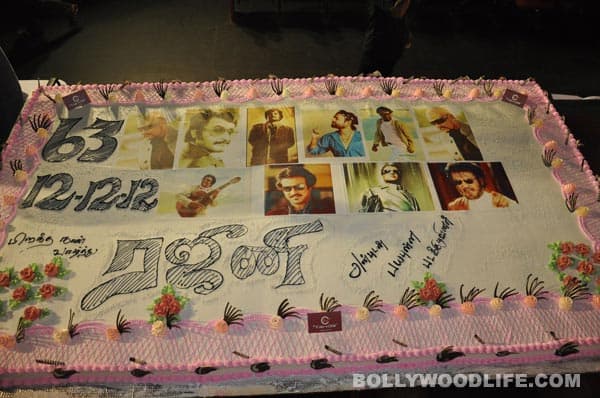 skip advertisement
On Rajinikanth's 62nd birthday on December 12, two books of the Superstar were launched and a 63kg cake was cut at the Payapulla audio launch
Superstar Rajinikanth, known for his unassuming attitude and charming aura, celebrated his 62nd birthday on Wednesday, December 12, with close friends and family at his residence in Chennai. "Though early in the morning he stepped out on to his balcony to wave to his fans outside his house, he spent the rest of the day with his family and select friends from the industry," said a source from the industry.
Nevertheless, Rajinikanth fans had every reason to celebrate to the fullest. Members of a Rajinikanth Fans Association cut cakes and unfolded banners in different parts of the city to mark this special day. "12.12.12 is a very special day and our superstar's birthday falling on the same day makes it much more auspicious. This day comes only once in 100 years and, therefore, we wanted to make the best of it," said Sarathy, a member of the association. "We also performed puja in the temple, wishing our superstar health, happiness and prosperity," he added.
Meanwhile, some members of the Tamil film industry also celebrated the actor's birthday in style. At the audio launch of a Tamil film titled Payapulla, a 63kg cake was cut by Rajinikanth's mentor, K Balachander.
On the other hand, two books – My Days with Baasha – The Rajinikanth Phenomenon and Rajinikanth- A Definitive Biography were launched. The former is authored by veteran southern filmmaker Suresh Krissna and The Hindu journalist Malathi Rangarajan, while the latter is written by Naman Ramachandran. South stars Prabhu Deva and Suriya were present at the My Days with Baasha event.
Rajinikanth's Sivaji 3D also hit screens Wednesday. All the 15 theatres showing the 3D film across Chennai had sold-out shows. The film was released in Tamil Nadu, Kerala and Karnataka.