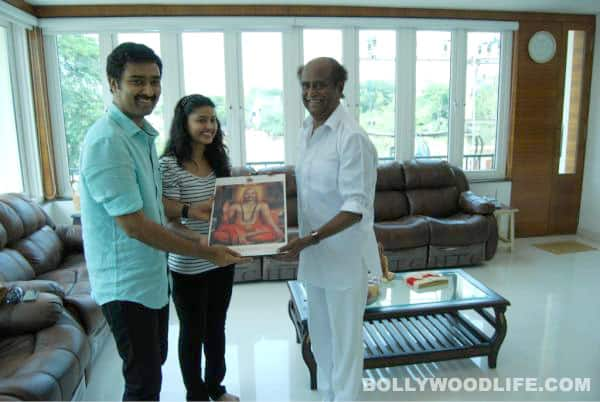 Superstar Rajinikanth is treated like God down south, but the Kochadaiyaan actor is probably one of the most humble persons in the film industry
Rajinikanth might be a Superstar, but the actor doesn't have any whims and fancies, nor does he throw his weight around. His humility is one of his supremest qualities. At the recent filmy wedding, where Sneha and Prasanna tied the knot, Rajinikanth was invited to bestow his blessings on the happy couple. But the star excused himself on account of a busy shooting schedule for his upcoming film, Kochadaiyaan.
However, according to reports, the actor later took time out from his busy schedule to wish the couple. Sneha and Prasanna were ecstatic with the surprise visit and put up pictures with the star on a microblogging site. Rajinikanth visited them at the Ragevendra Kalyana Mandapam. He also gifted the newlyweds a framed photograph of Sri Raghavendra. Now, that's really sweet! Don't you think so?
More on Sneha & Prasanna:
Prasanna and Sneha: Engagement pics
Sneha and Prasanna: Wedding reception pics
Prasanna set to marry Sneha on May 11
Sneha chooses career over marriage to Prasanna