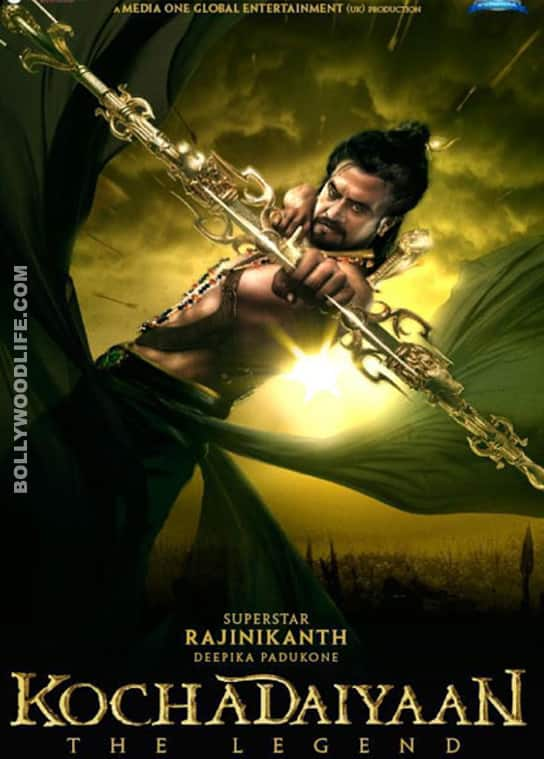 Cineswami visited the sets of the film in London and found out
It seems that nothing is impossible for the indestructible Rajinikanth, even bringing the dead back to life, but that is precisely what's going to happen in Kochadaiyaan. Ever at your service, doing the jobs others don't want to, Cineswami dropped into the closed and hush-hush sets of the film at London's Pinewood Studios and got you this nugget. The 3D motion capture film being directed by the Superstar's daughter Soundarya will use cutting edge technology to bring the dearly departed comedians and villains of Tamil cinema Nagesh, P S Veerappa, M N Nambiar, R.S Manohar and Asokan back to life, albeit in animated form. As the icing on the cake, the much-loved Nagesh will be seen in a double role. But the cherry is reserved for Thalaivar who will be seen in not one, not two, but three different roles in the film.
Sarath Kumar is playing a key role in the film and his wife Radikaa visited the sets and sent out a series of tweets over the weekend about it, which are reproduced below:
"Amazing technology used, great enthusiasm and vision by Soundarya, KSR and team at Kochadaiyaan shoot. Very impressed." (KSR, of course, is KS Ravikumar who wrote the story, screenplay and dialogues for the film.)
"AR Rahman visited the sets yesterday and had lunch with all. Lovely to see Rajini and ARR childlike quest to know and grasp something new."
"Hd some great laughs wth rajini, reminder of days when no caravan was in use,and we wld sit 2gether chatting, eating & sharing warm moments."
"Great camaraderie between actors. All down to earth, humble and refreshing to watch."
"Lovely Sunday, great weather, movie& popcorn @ multiplex with Rajini, Ksr, Dr, and our family. And awesome Italian meal with great conversation." Lest you get alarmed, the Dr being referred to isn't Rajini's physician, but Dr Murali Manohar, one of the producers of the film."
Meanwhile, the Telugu rights of the film have been sold to Lakshmi Ganapathi Films for Rs 30 crore. Endhiran's Telugu rights fetched Rs 27 crore. Rajini fans in Japan are also in for a treat as the film will be dubbed in Japanese and released there.
Back in India, Rajini's other daughter Aishwarya is on tenterhooks about her debut feature 3 that releases March 30. "2 days to go..i can neither sleep nor eat. levels of tension n nervousness sky rocketing. its almost time to share my journey of "3" wit u!" she tweets. Her husband Dhanush, who also stars in the film, is also impatient to see the film out in the cinemas, tweeting, "3 releases this friday 🙂 just 2 days to go. gonna b d slowest 2 days of my life. can't wait to know ur feedbacks. God bless". Let's see how the audience votes, come Friday.