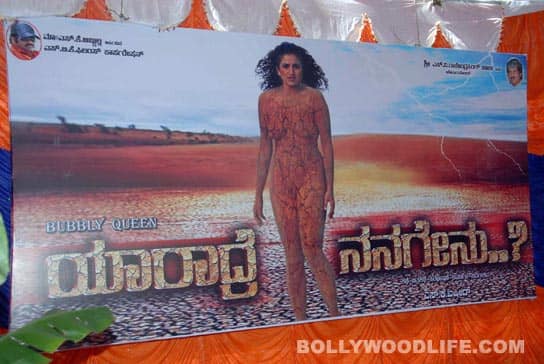 At least it appears to be so in the posters of Yaaradre Nanagenu. And it has irked the moral police…
Looks like Basheed's new film Yaaradre Nanagenu gave enough reason for the moral police to intervene. According to them the posters of the said movie 'show women in bad taste'. So bad that the protestors gheraoed the audio launch of Yaaradre Nanagenu and demanded immediate withdrawal of all posters. But Rishika Singh, who has posed for it thinks that it's just a matter of perspective.
"I don't think the poster is in bad taste. The film's story is quite different from what we usually see on screen. There are some sequences that required me to pose like that. In fact, I have not at all posed nude; it is an illusion, which has been created to stoke people's curiosity. The film has just been launched and it is not proper to protest before watching it," she says. Hmm, maybe you are right, Rishika. But do you think such optical illusions are appropriate?