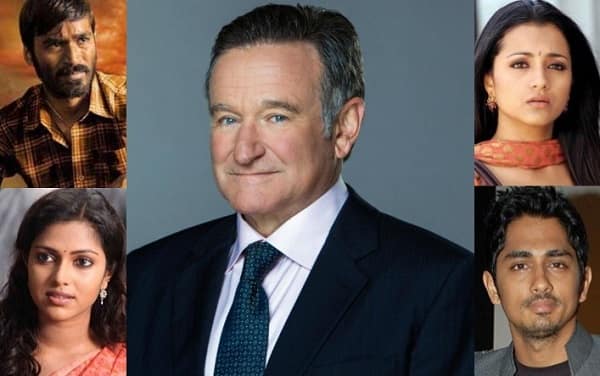 South Indian stars react to the shocking news of Hollywood comedian's suicide
This morning, the world of art and entertainment came to a standstill when the news broke that one of the finest actors in Hollywood Robbin Williams was no more. Mr Williams was found dead at his home in Tiburon, Calif., just north of San Francisco. The investigators suspect that the Jumanji actor apparently committed suicide by asphyxiation.
While the reactions to the legend's untimely demise are flooding all over the internet, our South Indian celebs also expressed their grief on Twitter. Here is what they have to say:
Trisha Krishnan tweeted," One of d worlds most renowned comedians..battling depression..dead in apparent suicide..Ironic!!Rip Mr.Robin Williams. A blue day indeed."
Dhanush was so shocked at  the death of Good Will Hunting actor, that he did not find words to express it. He tweeted,"Robin Williams :(".
Amala Paul tweeted,"Not sucha 'good morning' after all! RIP Robin Williams!!"
Tollywood actress Lakshmi Manchu tweeted," Oh man. Woke up to such heart breaking news. No more Robin Williams! My childhood wouldn't have been the same without his movies.rip".
Actor Manoj Manchu wrote,"Robin Williams 🙁 He will remain forever in our hearts …. RIP."
Director Venkat Prabhu tweeted," Can't believe my fav actor is no more!! :((( RIP robin williams.."
Hansika Motwani tweeted," RIP #RobinWilliams. :("
Kochadaiyaan director Soundarya Rajinikanth tweeted,"Rip our genie !!! #RobinWilliams you will be missed !!!"
Jayam Ravi wrote," Rip Robbin William. Shocked!"
Siruthai actor Karthi wrote on  Facebook," Terribly shocked on hearing the news of Mr.RobinWilliams death. What an actor! An artist who has been an inspiration for many actors & admired by millions of people. Personally for me, his versatility and humour has been a great inspiration. can't forget his #GoodmorningVietnam #PatchAdams#DeadPoetsSociety #MrsDoubtfire especially #GoodWillHunting which I would have watched more than 25times only for him. Wonder what would have made him take this decision?! You will always be remembered sir.#RIPRobinWilliams"
While the entire world mourns, we at Bollywoodlife salute late Robbin Williams for his contribution to the lives of millions over the years with his class act.