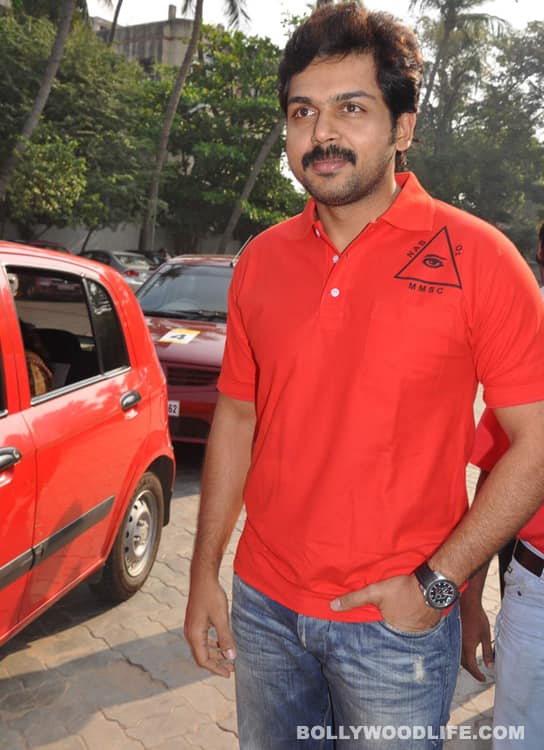 On the occasion of birthday of Kollywood's favourite Paiyaa, Bollywoodlife brings you five of the best dialogues delivered by Karthi
Born on May 25,1977, in the household of Tamil actor Sivakumar, Karthik Sivakumar aka Karthi got a warm welcome in his debut flick Paruthiveeran by the cine-world. The youngest son of actor Sivakumar and the brother of actor Surya, Karthi has always been attracted to the films. Keeping aside his direction aspirations, Karthi took up acting on the insistence of  his father.
After finishing his engineering degree and assisting Mani Ratnam in Aayutha Ezhuthu, Karthi got his first break as an actor in Ameer Sultan's Paruthiveeran. The film received rave reviews and it soon was declared a blockbuster, making Karthi a young talent to look out for. Since then Karthi has worked with the big names in the industry and has given consecutive hits with Paiyaa, Naan Mahan Alla and Siruthai. His character of Rocket Raja in Siruthai is adored by one and all. Without further delay , we bring you five best dialogues of Rocket Rajaa, Karthi on his 37th birthday.
Full adichum bodhai illai, Bullet beer adichum bodhai illai, kal kudichum thookam illai, kannai moodinal kanavil needhane
His role of a village rowdy in Paruthiveeran had many memorable dialogues. Karthi delivers this outrageously funny poem with such gusto that you can't resist a smile on hearing it. His romantic proposal scene with Priya Mani is enjoyable, mainly due to the  style. In the entire film, Karthi played his part with so much panache that it was hard to believe that it was a debutant in action.
 Friend vishayathula kanaku parkha maten, kanaku vishayathula friend ye parkha maten
Karthi and comedian Santhanam first came together in Siruthai which went on become a runaway hit at box office due to the duo's magical chemistry. The scene in which  Karthi delivers the above dialogue to Santhanam is hilarious. The first half of the dialogue is contradictory  to the second half of the dialogue as Karthi cons Santhanam. After the success of Siruthai, the Karthi-Santhanam duo did two more films together – Saguni and Azhagu Raja.
Saavu na bayapadarthuku una maari kaasu ku maar adikara echai coolie padai nu ninaichiya…Pandiyan….Rathnavelu Pandiyan
This is an another pulsating dialogue by Karthi from Siruthai in which he portrays  double role of con artist Rocket Raja and police officer Rathnavel Pandian. Karthi seems to have taken a leaf out of his elder brother Surya's brilliant portrayal of police officer in Singam. Siruthai has a barrage of punch dialogue delivered with such ferocity by Karthi that you would feel the goosebumps. This dialogue delivery from Karthi shows his anger and aggression of the most feared police officer of Tamil Nadu – Rathnavel Pandian.
Nalla figure aah rich girl aah pathu pesi kalayanam pannala….
Another memorable dialogue from Siruthai where Karthi's con man act shines above the rest. Karthi had mastered the role to perfection with his unique style and body language.  Siruthai became so popular that it  was later remade into Hindi with the title Rowdy Rathore starring Akshay Kumar. The film also established Karthi as a comic hero. Perhaps Siruthai is his most quotable movie.
Panta Kalutinathaanga Thappu, Sattaiya Kalutina Thappu Kidayadhuga
This cheeky dialogue of Karthi from Selvaraghavan's magnum opus Aayirathil Oruvan, to clear his intentions to the heroine is perhaps one of the hottest scenes of Tamil cinema in recent times. His portrayal of a smug freight coolie in a ship was lauded by one and all. Getting into the character's skin and getting the body language right seems to be Karthi's speciality.
Even though his last two outings Azhagu Raja and Biryani failed at the box office, the future of this Rocket Raja seems to be rocketing towards the sky. Bollywoodlife wishes Karthi a very happy birthday and hopes he continues to thrill us with some amazing roles and memorable dialogues.