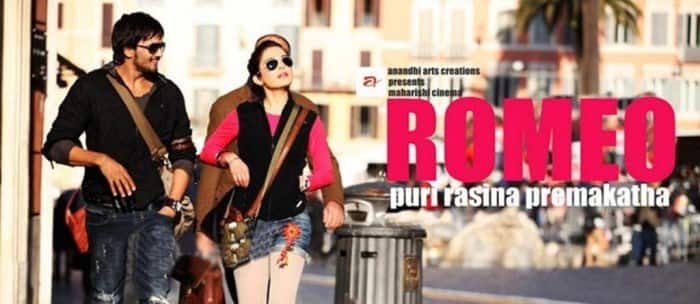 The film seems like just another mass entertainer
Puri Jagannadh's  younger brother Sairam Shankar is back to the silver screen with the movie Romeo. The actor Sairam Shankar who is still struggling to establish himself as a hero could benefit if Romeo manages to do well at the box office.
Romeo's trailer suggests that Sairam might have to wait longer for the film which gives him some foothold in the crowded Telugu industry. Written by Puri Jagannadh and directed by Gopi Ganesh, Romeo has Sairam Shankar and Adonika in lead roles.
After viewing the trailer, one gets the feel that the movie is yet another mass entertainer which has enough scope for romance, action and emotion . Shot in exotic locales, the makers have not compromised with the look and feel of the film. The story seems to be revolving around the hero chasing the girl he loves, trying to woo her and beating up foreign goons of course!
The only high point in the movie is the intro of Ravi Teja, who seems to be playing a lovely cameo in Romeo. But alas, only if Puri Jagannadh had written a better script, Romeo might have rose from the regular action-romance masala entertainer. In short, Sairam Shankar's Romeo has nothing new to offer.