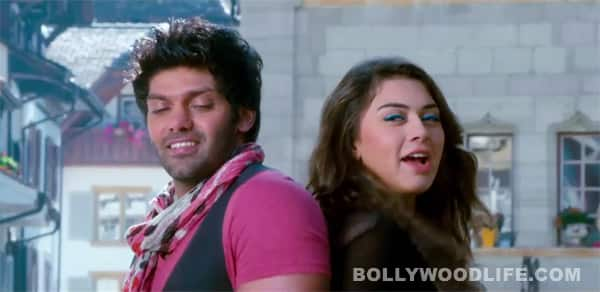 The new song from the much awaited movie Settai is out, but it may not hold your attention for long
Even while Settai was in the making, director R Kannan had said that the movie, a remake of Bollywood's Delhi Belly, would be 'tweaked' for the Tamil audience. The Agalaathey, Agalaathey song, released in the run-up to the April release of the movie, is definitely one of those additions.
Composed by SS Thaman and sung by Megha and Vijay Prakash, Agalaathey, Agalaathey is in the time-tested Kollywood duet style. It features Arya, recently voted as the favourite lover boy, and Hansika Motwani. The song is set in the now all-familiar Switzerland and while the locale is pretty, it doesn't come as a novelty. Arya and Hansika make a good-looking pair and the music is catchy enough for the song to hit the top of the charts soon.