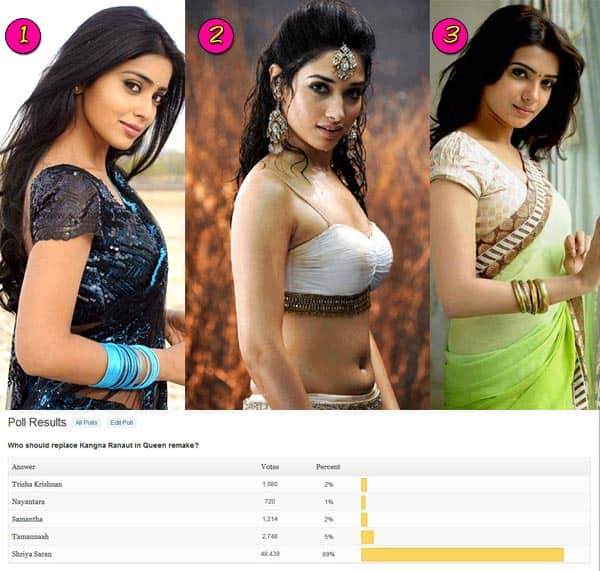 Five most popular heroines down south were pitted against each other for the coveted crown of Queen in Kangana Ranaut's Queen's South Indian remake. And this is what fans had to say…
Two weeks ago we asked which female lead in southern industry will do justice to the title role of Queen in the South Indian remake. Trisha Krishnan,Tamannaah,Nayantara,Samantha and Shriya Saran were the contenders for filling in Kangana Ranaut's shoes in the much hyped Queen remake down south. And the fierce battle for the coveted crown of Queen has come to an end as fans have given their verdict.
We received an overwhelming response as 54,201 votes were cast to decide South India's Queen. Shriya Saran's huge fan following has made sure that the pretty actor wins the race with ease, leaving behind the rest by a proverbial mile. The Manam star got 89% of the votes which constitutes a whopping 48,439 votes and has been crowned as Kangana's replacement in the remake by the fans.  Tamannaah is the  distant second with 5% of the votes ie 2748 votes followed by Samantha at third position with 1,214 votes.   Trisha and Nayantara occupied fourth and fifth spot respectively with meager 1080 and 720 votes respectively.
The poll also led to comment wars between fans of Trisha and Shriya Saran, as the two starlets were engrossed in fierce battle at the initial stages of the polling. But it was Shriya Saran who emerged victorious as the fans unanimously crowned the pretty damsel of Queen of South India.
It's celebration time for Shriya Saran fans whose love for  the star has tilted the contest between 5 ravishing starlets in Don Seenu heroine's kitty. We hope the Mr Thiagarajan, the producer of the remake, sees the unprecedented choice of the public and ropes in the svelte beauty Shriya Saran to play the title role. This landslide of votes proves that even if Manam diva doesn't bag the role in Queen remake, Shriya Saran is the real queen of heroines down south.