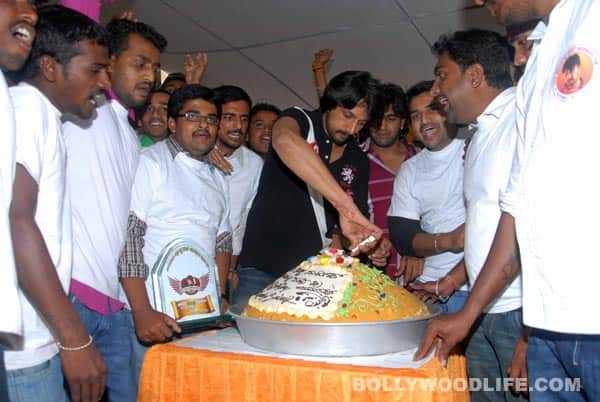 skip advertisement
South baddie Sudeep, currently basking in the success of Eega, celebrated his 39th birthday on Sunday amidst a huge gathering at his residence
Sudeep has shot up the popularity charts since the release of Eega, fans and several members of the film fraternity gathered in huge numbers right from the morning to celebrate the actor's birthday on September 2.
Announcing a new film on star birthdays has been a practice in Sandalwood for quite some time now and the next Sudeep-starrer, titled Chakravyuha, being produced by MN Kumar, was announced on Sudeep's birthday. Chakravyuha is also an iconic film of the 80s, which made Ambarish the 'Rebel Star' of Kannada cinema. Though Sudeep's film has nothing to do with the old one, the same title has been chosen to grab attention and to build initial hype.
Sudeep will begin work on Chakravyuha after he finishes shooting for Bachchan. Like Bachchan, Chakravyuha will also be a trilingual made simultaneously in Kannada, Tamil and Telugu.