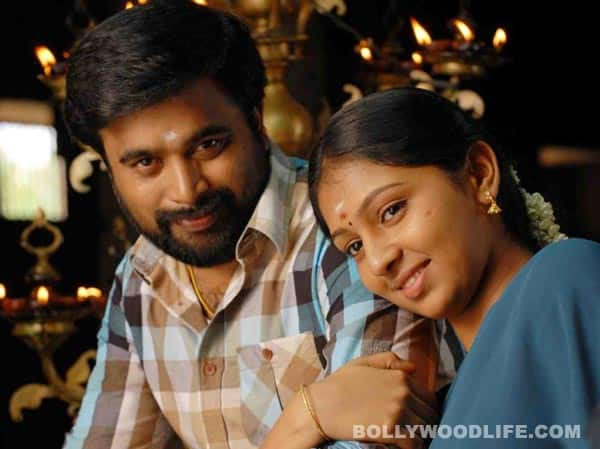 Actor-directors like K Bhagyaraj, R Parthiban and R Pandiarajan are not your typical Kollywood heroes. Fully aware of that, they came up with story-driven films that focused on human emotions rather than on mind-boggling heroics
Following in their footsteps is Sasikumar, actor, director and producer. His production venture Sundarapandian, in which he plays the lead role, speaks about love, valour, friendship and betrayal. And is set in the earthy Madurai milieu.
There are shades of his maiden directorial venture, Subramaniapuram in it, but strong characterisation and gripping narration make Sundarapandian fresh and watchable.
It is directed by Sasi's associate, Prabhakar, and every frame bears the stamp of his mentor. The entertainer laced with romance and friendship proceeds smoothly and gets interesting as it nears completion. What begins as a usual commercial flick with song and dance, settles down to being a serious film after Sasikumar falls in love. Sasikumar, well aware of his strengths and limitations, has ensured that no mass elements creep into his characterisation and plays the boy-next-door to perfection. The catchy dialogues add pep to the proceedings.
In a nutshell, it is a simple tale of innocence and friendship. What happens when a girl enters the lives of the friends forms the crux of the story. Sundarapandian (Sasikumar) is the only son of a rich landlord who is admired by one and all. His friend falls in love with Archana (Lakshmi Menon), the daughter of a powerful man in Usilampatti, Sundarapandian does everything to ensure she accepts his friend's proposal, even though he and Archana have been drawn to each other before. As it happens, she falls for him again. A murder in their midst is a turning point and the blame falls on Sundarapandian, who goes to jail. When Sundarapandian returns from jail and prepares to marry Archana, there are other twists and a bloody climax.
Sasikumar lends substance to the role and looks fit, having shed some weight since his last on screen appearances. His comic timing is an added bonus. Lakshmi Menon as Archana has delivered a mature performance. Appu Kutty fails to impress here and the likes of Inigo, Vijay Sethupathy and Parotta Suri chip in with their best.
The songs by Raghunanthan are unexceptional, but his background score makes up for it. Prem Kumar's cinematography captures Usilampatti and the surrounding villages well. Sundarapandian is an honest attempt and all credit to Prabhakar for coming up with a commercial entertainer that strikes a chord with the audience.
ALSO READ:
What do Kollywood stars Vijay, Simbu and Sasikumar have in common?