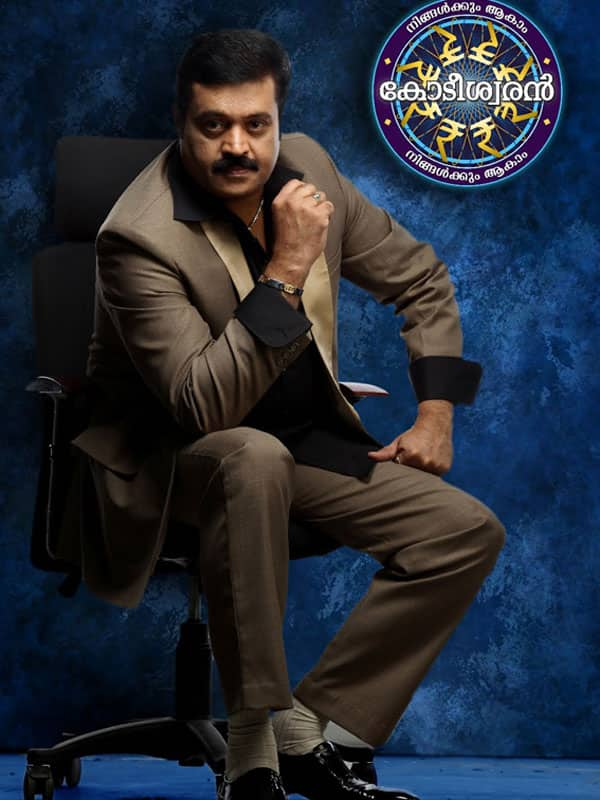 Suresh Gopi is enjoying his role as the host of Ningalukum Akaam Kodeeshweran, the Malayalam version of Kaun Banega Crorepati, but says that contestants' sob stories are taking an emotional toll on him
The TV game show Ningalukum Akaam Kodeeshweran went on air this April 9 on Asianet and Gopi said though the show is just a few weeks old, the stories of trial and tribulation of the contestants are making him sad."I am sobbing inside when I hear the problems and the bad experiences of the contestants who sit before me. The interaction in a show like this is far greater than interacting with those who watch my films. It is something which one has to really experience," said Suresh  Gopi. "Till yesterday 16 episodes have been aired and we are being told that the response from the people who wish to take part in our show has now crossed 4.7 million-mark. We are told that it has crossed the figure of any such game show in the country," he added.
The show is being shot in a Chennai-based studio and is aired four times a week. "Barring the emotional disturbance that I undergo, I am really enjoying it, and it is also tiring. Every day two episodes are taken. After three days there is one day break for us to recharge our batteries," added Gopi.
The 52-year-old national award-winning actor is known for playing cop roles in hits such as King and Commissioner, City Police, (1994), Rudraksham, Kashmeeram and Mahatma. Asked about his films, he said that because of his agreement with the Kerala Film Chamber none of his films can come out before September. "In this round, I am committed till August 23. I have four films of mine put on hold. As things stand now, my next film won't be released before October. The second round of the game show has been scheduled for January. But I am told that the producers want to start the second round much earlier because of the overwhelming response to it," he added.
Gopi, however, said that his first love is films and if he goes on doing the game show, "one thing is certain, my life span will be shortened because I am unable to take the emotional pressure".
ALSO READ:
Amala Paul to star with Prithviraj, Suresh Gopi