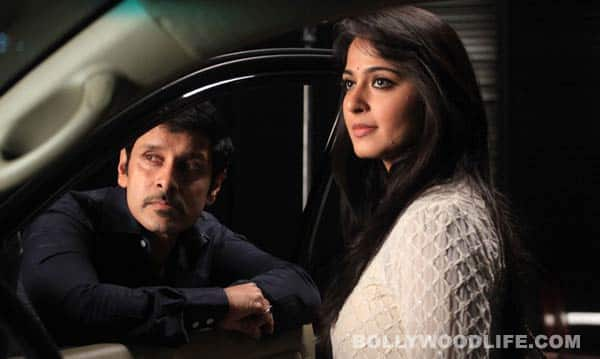 Kollywood stars Vikram and Anushka Shetty are ready with their next film, Thaandavam. Watch the trailer
The trailer of Thaandavam is out and it seems director AL Vijay has gone all out for the action drama. The film explores the concept of 'Echolocation', which is an ability to identify objects, their position and size through echoes. Bats and dolphins use echolocation to sense the presence of another being or object through sound.
The trailer shows Naseer comparing Vikram to bats. In spite of being blind, Vikram doesn't seek help from anyone. Once betrayed, all he seeks now is revenge. Anushka Shetty plays his wife. Thaandavam also stars Amy Jackson as a reporter, and Lakshmi Rai and Santhanam in pivotal roles. 'Thaandavam' – the dance of Lord Shiva – is interpreted as Vikram's quest in the film. The cinematography looks great – the River Thames, the Taj Mahal and the bustling streets of US and UK are beautifully shot by cinematographer Nirav Shah. Art director RK Naguraj's work looks commendable, while the title track running through the entire trailer is racy.
All in all, the trailer invokes a certain curiosity about Vikram's enigmatic character and the movie as a whole. Thaandavam may just make for an interesting watch.