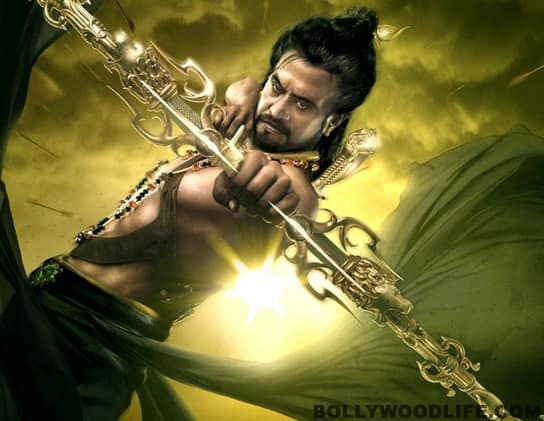 The makers of Kochadaiyaan have upped the ante by using the technology last employed by Steven Spielberg for The Adventures of Tintin. And for the Superstar, more is definitely not enough!
Making a film which stars Rajinikanth is probably one of the biggest challenges any filmmaker could face. If his legendary awesomeness doesn't translate on to the big screen, the makers will be mobbed and lynched. This time around, his daughter, Soundarya has taken charge and she will ensure that Kochadaiyaan will do complete justice to her father's towering stature.
In a regular big budget film, the maximum number of cameras used for shooting a scene barely touches ten, but for Rajini's Kochadaiyaan, 80 cameras will be used to soak up his charismatic moves. In a recent interview the co-producer of Kochadaiyaan Dr Murli Manohar said, "Rajinikanth, dressed in a body suit, will perform while 80 cameras capture his every move. The idea is to enhance his performance, and construct visuals for a period piece that can't be created otherwise."
Kochadaiyaan is the first Indian film to use Motion Capture technology (MOCAP). The technique combines human actors with computer-generated animation. It basically means that what Rajini's fans will actually see on screen will be an animated version of the Superstar, but he will be doing all the stunts himself and these will be captured by those 80 cameras and then digitally replaced by the animation equipment.
The makers have taken on this ambitious project with the help of the biggest and best brains in the business from Hollywood. This is a moment of pride for all Rajini fans and will only further his legend as the biggest star of our times. This makes Bollywood celebs pale in comparison. Yes, even Shahrukh Khan with his ambitious special effects and Salman Khan with his astonishingly consistent box office takings.
Can anyone in B-town match up to the legend of Rajinikanth?
ALSO READ: Rajinikanth says… mind it!