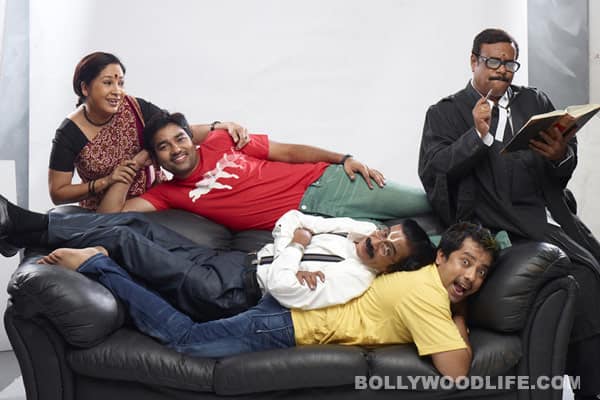 Based on the 1981 Tamil comedy of the same name, the new version appears to be a half-hearted tribute to the original
One of the glaring differences between the original version starring Rajinikanth and the new one with Shiva is the treatment of comedy. While the first installment was sensible and funny, the remake is loud and commercial. Despite a few rib-tickling moments between Shiva and Prakash Raj, Thillu Mullu suffers due to extended running time and skewed screenplay.
In search of a job to support his sister and find a groom for her, Pasupathy (Shiva) lands in the office of Shivagurunathan (Prakash Raj), chairman of a water purification company. With his obedience and piousness, Pasupathy wins over Shivagurunathan and eventually lands a job as marketing head.
Pasupathy is not the same man when he steps out of the office. He smokes, drinks and occasionally gets involved in bar brawls. When Shivagurunathan learns about his original identity, Pasupathy's job is at stake.
To save his job being terminated, he convinces his boss that he must have mistaken him with his cat-eyed twin brother, who is exactly opposite to him in behaviour – rebellious and uncivilised.
The rest of the story is all about how Pasupathy continues to fool his boss without blowing his own cover. Will Shivagurunathan ever come to know about Pasupathy's hidden identity? This forms the climax.
Some of the best moments and lines are between Shiva and Prakash Raj in the film. Barring these moments, rest of the scenes don't evoke laughter. In fact, it turns annoying, especially scenes involving Kovai Sarla, who seems to be getting louder with each movie.
Sequences in the original were genuinely funny and never forced you to laugh. The remake fails miserably on this front as it attempts to make every single line as witty as possible with cliched references.
Shiva and Prakash Raj shoulder the film with equal responsibility. They are brilliant in their respective roles, but hardly do they get any support from the rest of the cast.
Isha Talwar, though, in her limited screen time, does her best to get noticed and succeeds too.
But the never ending second half and extended climax is boring.
Thillu Mullu would have been even more enjoyable if the running time would have been shortened. Nevertheless, it was an entertaining watch.
Rating:
out of 5
Reviewed by IANS
* Poor
** Average
*** Good
**** Very good
***** Excellent