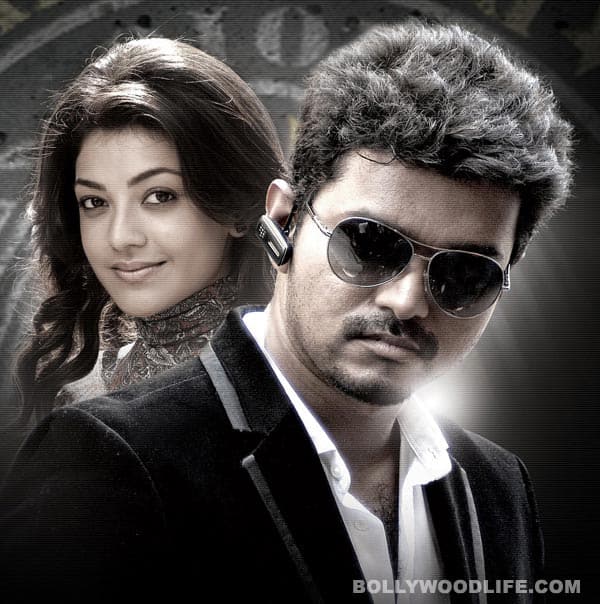 It is a youthful-looking Vijay all the way, as he displays his range of skills, especially in the dance sequences. Murugadoss has played up the actor's star status and has come up with a winner
There was a lot of hype leading up to the release of Thuppakki, with the film itself entangled in various issues.However, as D-day approached, things were sorted out and the focus was entirely on the movie. Vijay's reputation as one of Kollywood's top stars added to the pre-release excitement over the film and he has certainly kept his place intact.
The actor, who teamed up with director AR Murugadoss for the first time, has continued his good work from Nanban and delivered a crisp performance, in what turns out to be a stylish action-entertainer. Vijay has been around long enough to know exactly what the audiences expect of him and he is not one to be swayed by the desire to do 'performance-oriented roles' or to 'do things differently'. Instead, wisely it would seem, he continues to do what he does best: entertain.
Thuppakki is a typical Vijay film with the actor in a more urbane role than usual, in which he sizzles. He has the beautiful-looking Kajal Agarwal for company and shines in the romantic interludes and numbers. The story goes like this: Jagdish (Vijay), an Army captain, goes to Mumbai for a 40-day vacation. He has a loving family, comprising two sisters and his parents, who want him to marry the right girl.
Even while he has taken time off from Army duties, he is a man on a mission. He is in the sprawling metro to take on and eliminate sleeper cells that are planning bomb attacks on Mumbai. How Jagdish goes about dismantling the terror network is what Thuppakki is all about. But, hang on, the film isn't only about guns and baddies; there's a fair dose of romance with Vijay falling for the heroine Kajal after the initial run-ins.
The versatile Jayaram shows his class in the comedy scenes while Sathyan, whose stock went up after Nanban, also manages some guffaws. The film does get off to a rather slow start after Vijay's mass intro number Kutti Puli but then gathers steam. The hugely popular Google Google song has audience on their feet. Even as Vijay hogs the limelight, bashing up baddies and plotting the destruction of the terror groups, the villain, Vidyut Jamwal, who made a mark in Billa-2, also make his presence felt with a slick performance.
Kajal, who has been riding high, featuring in some biggies of late, appears in stylish clothes and is an enjoyable distraction from the high-voltage action. Santosh Sivan's camerawork and Sreekar Prasad's editing add value to the end product.
Despite a few stray bullets, particularly towards the end, Thuppakki is on target, and will please Vijay fans no end.
Rating: 2/5