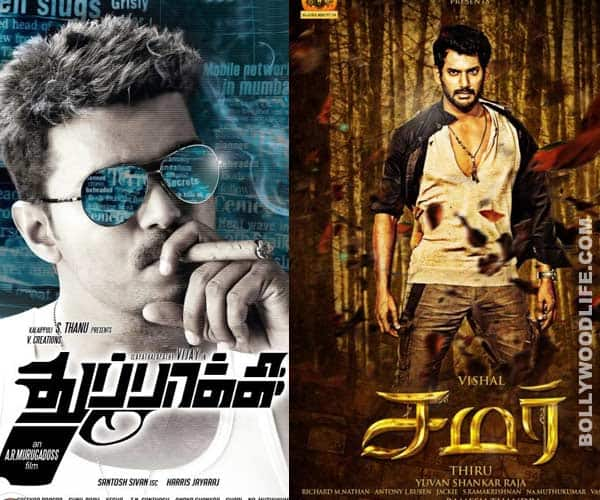 There's more than one legal wrangle over film titles in Kollywood these days
To begin with, there seems to be no relief for Vijay's upcoming film Thuppakki, as a Chennai court once again extended the stay on the film directed by AR Murugadoss.On Tuesday, when the case filed by the producers of a movie titled Kalla Thuppakki came up for hearing, the Judge extended the interim stay on Thuppakki and postponed the case to Friday for further hearing. The charge against the Vijay-starrer was that its producers unlawfully registered the title by using the influence of the actor's father SA Chandrasekaran (president of Tamil Film Producers Council), despite a similar title (Kalla Thupakki) being already registered.
When the petition came up for hearing recently, the court issued a temporary stay and sought the views of Film Chamber of Commerce and Cinema and TV Producers Guild. Thuppakki, produced by Kalaipuli S Thanu, has Kajal Agarwal as heroine, and is nearing completion.
Meanwhile, Vishal's upcoming film Samar has hit a roadblock, as a Madurai Court has issued an interim stay on the movie's release, after hearing a petition filed by a producer Vijay.
According to Vijay, he had registered the title Samar with Film and TV Producers Association in 2011 and renewed it this year (2012). "But a film under the same title is being produced by Thandra Ramesh of Balaji Real Media and directed by Thiru, with Vishal and Trisha playing the lead roles," Vijay said in his petition. When it came up for hearing, the judge issued a notice to Thandra Ramesh, directing him to reply before August 31. He also ordered an interim stay on the movie's release. So far, its not clear when both the movies will hit the theatres. Let's hope they resolve these issues soon. After all, it's not good to keep the fans waiting, no?