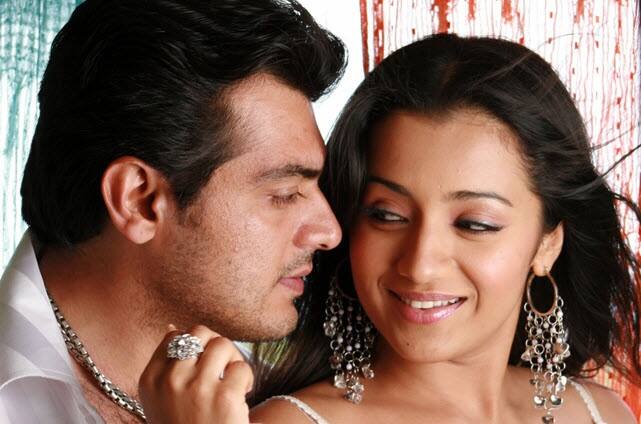 The Vinnaithandi Varuvaya babe's comment has angered the fans of other leading Tamil actors
Online controversies seems to be the new flavour of the season. After veteran director KS Ravikumar faced a lot of flak from Vijay fans for a tweet from a fake account, sassy chick Trisha Krishnan seems to have courted trouble with her comments on leading heroes of Tamil cinema. 
The Endrendrum Punnagai starlet was in Missouri,US as a chief guest for Federation of Tamil sangams of North America (FeTNA) held during first week of July. While the guests fired a barrage of questions at the Kollywood hottie, there were couple of controversial questions which had put the diva in tough spot. When asked who was her favourite star in Tamil cinema, Trisha took Thala Ajith's name. Afterwards she was asked to name five Tamil actors in the order of her preference with whom she loved to work with. Poor Trisha, unknown of the consequences, quickly replied "Ajith Kumar, Suriya, Vikram, Kamal Haasan and Vijay".
While Ajith fans made merry, the supporters of other stars were not happy with the starlets answers. Especially Vijay fans were enraged with Trisha as many thought her career's biggest hit Ghilli came opposite Illaya Thalapathy Vijay. The sexy diva's remarks only fueled the traditional rivalry between Vijay and Ajith fans leading to many Vijay fanatics thronging  Twitter abusing the Mankatha starlet.
Trisha, taken aback by the misunderstanding of her words, tweeted," Pls dnt assume n blow my FETNA speech outa proportion.I respect n admire al d superstars Ive workd wit.N my intention was not to hurt anybdy".
This is the second time this month Ajith vs Vijay row has sparked. Wethinks stars should think a little before commenting on this highly volatile topic.