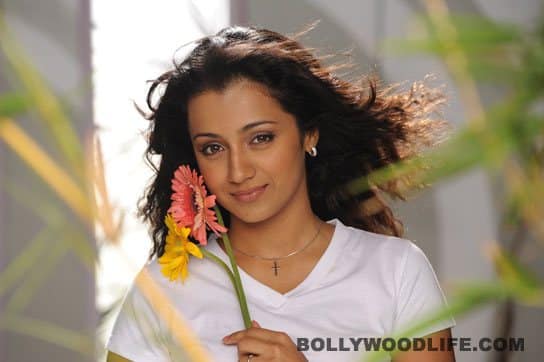 The pretty girl talks about working with Kamal Haasan in Manmadhan Ambu, and her weak points as an actor
Trisha is on a high – her Vinnai Thandi Varuvaya was a huge hit in Tamil and Telugu, and then she worked with Kamal Haasan in Manmadhan Ambu. True, she did see a few downs too – her Bollywood debut Khatta Meetha didn't exactly set box office registers ringing. No wonder then that she refused to reprise her role in the Hindi remake of Vinnai…. But she is still a huge star in Tollywood, with Vinnai… endearing her to a whole new generation of fans. In a candid chat, Trisha talks about Haasan, and surprisingly criticises her own acting skills.
You worked with Kamal Haasan in Manmadhan Ambu. What did you learn from him?
Manmadhan Ambu was not just another film I signed; it was going to school all over again. Kamal sir plans everything, and it is a cakewalk when we walk onto the sets to give a shot. He may be a superstar, but he doesn't intimidate anyone on the sets.
How do you prepare for a role? Do you rehearse a lot?
It depends on the director I work with. How an actor connects with a director and the rapport the two share, makes a huge difference. A lot also depends on the other actors you work with. Each filmmaker's approach is different with actors.
What changes would you like to see in Tamil cinema this year?
To be honest, I think we are seeing a lot of changes. The audience is very intelligent today, and the industry is making a lot of good films – all executed with confidence solely based on the value of a script. However, I would like to see audiences turn up at the theatres to watch all kinds of films, without any preconceived notions. I think they are still close-minded, especially if a film revolves around a female lead. I hope that changes this year.
Which acting method do you think brings out better results – individual or institutionalised?
I don't follow any school. Sometimes being spontaneous on sets works wonders, and many times the first take works like magic. I don't like being monotonous by following any specific acting method.
How do you manage to stay consistently among the top bracket with directors?
I think I always pick the right project. I don't mind staying at home without work for six months to a year. But I would most definitely not work on a project that is not to my satisfaction. I would rather wait for the right script, than sign a film because I don't have projects in my kitty.
What are your weak points as an actor? And do you see that changing soon?
(Laughs) I have many weak points and I am my own critic. There is always something that I want to improve. There is a long list, and this includes dancing, dubbing and dialogue delivery.
Which director did you enjoy working with in 2010 and whom are you looking forward to work with in 2011?
Last year it was Gautham Menon. He is such an easy director to work with, and always open to ideas. He is completely in sync with the sensibilities of all his actors. He is easy to adapt to, and allows actors to breathe on sets. This year, I am looking forward to working with Venkat Prabhu in Mankatha opposite Ajith (Kumar). He is a lot of fun and full of energy on the sets.
Your views on non-Tamil speaking actresses in Tamil cinema.
I would say it is unfair to judge them, and that we need to give them a chance. Many girls,who are part of the Tamil film industry today, take a lot of effort to master the language. I met Tamannaah, and I was very impressed with the way she spoke Tamil. Being a Tamilian, and having always spoken English at home, I know how hard it is to master the language.