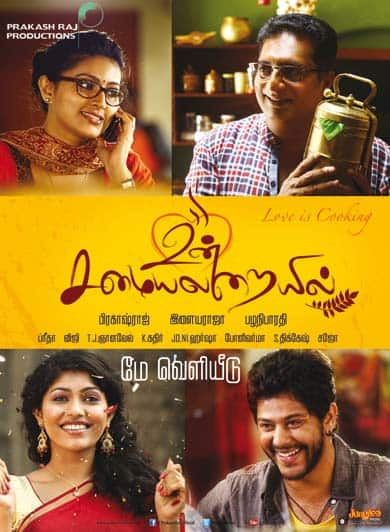 The ace actor Prakash Raj's third directorial venture takes you on a roller coaster ride of emotions, a tad too melodramatic at times
The trailer of Prakash Raj's most ambitious project till date Un Samayal Araiyil is out.  Prakash Raj dons the director's hat once again in this much talked about trilingual flick  titled Ulavacharu Biryani in Telugu and Oggarane in Kannada. The film which is releasing in three languages simultaneously on June 6 is a remake of Malayalam hit Salt n Pepper. The film's tagline Love is cooking suggests a good dollop of romance sprinkled over the love for cooking.
So how is the trailer? The film's trailer is  like a simple curd rice, sans tadka but mixed with pickle of melodrama. The trailer showcases the love story  of two couples- the older couple of Prakash Raj-Sneha and younger couple of Tejus Kancherela-Samyuktha Hornad. While the older couple is shown to bond and bicker on the phone over cooking recipes, the younger duo doesn't get much of screen presence in the trailer and seems to be there in the story just to add some glam content. The film seems to be well supported with Isaignani Illayaraja's music and a collage of natural actors of the likes of Urvashi and Thambi Ramaiah.
With cooking as  background, the trailer depicts the ups and downs of relationship between Prakash Raj and Sneha, scaling all possible emotions from laughter to sorrow. One has to appreciate Prakash Raj for taking the brave decision to make a film sans stars and glam quotient. Even though the makers have tried to depict  a simple day to day life's story, one can't help but feel the film is little high on melodramatic quotient. By the time the trailer reaches its end,  some of the on screen emotions come off as contrived rather than natural.In short, Un Samayal Araiyil seems to be a simple take on life and realistic cinema. We hope it is tasty enough to gorge down easily.
Watch the trailer below!