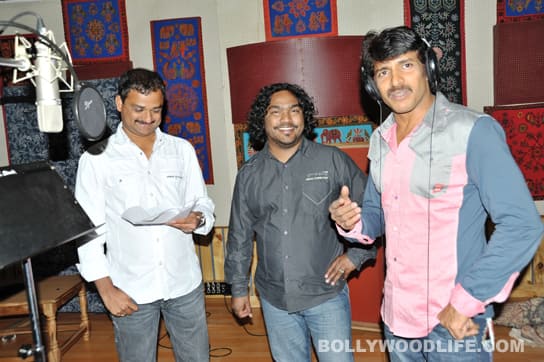 This is the second time he is lending his voice for another actor
Upendra continues to add to his growing list of capabilities. Having already acted in, directed and produced films, penned lyrics and sung playback for himself, Upendra is now trying his hand at singing for other actors. Despite underplaying his abilities by noting that he is "neither a good singer nor a regular one", Upendra has managed to pick the right kind of melodies and turned them into chartbusters. But this time, he is not crooning for himself.
We had reported how the actor, whose humility and helpful nature is legendary, recently lent his voice to a bicycle in the film Maryadhe Ramanna where Sunil plays the lead. Earlier, he had sung Tagalhakonde naanu in Jogayya. And now, we hear that Uppi Dada is singing a song Basavaraj padhe padhe phoninalli… for Duniya Vijay in Jarasandha. The song is a telephonic conversation between Vijay and Pranita, who plays the female lead in this Shashank movie. Arjun Janya is the music director.