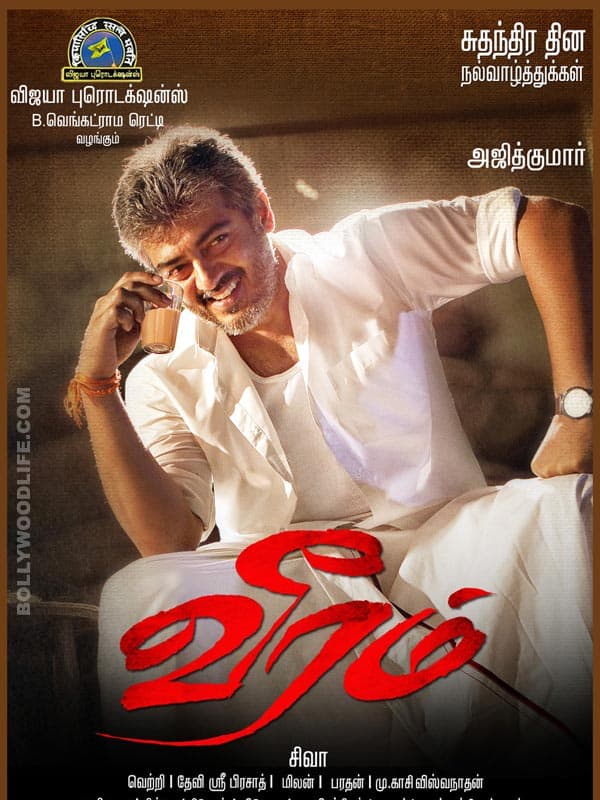 The shows were cancelled at two theatres here on Thursday night after the cinema operators failed to obtain an encrypted code needed to unlock the digitally-formatted movie
The premiere of Veeram in Singapore was postponed for a day as the producers of the Tamil movie had failed to pay a bank debt in time. Cinema halls in Singapore and other countries were scheduled to screen the film on Thursday night, ahead of its opening in India Friday. But on Thursday night, Singapore's Rex and Golden Digital Theatre stopped selling tickets after they failed to get the necessary code to screen the film.
Rex cinemas' owner Kumar, who declined to give his full name, said the hall received the code only at 2.30 am Friday and the screening began at 11.45 am. A representative from film distributor AP International said cinema halls across the Gulf and Europe were also affected by the delay. Key delivery messages (KDMs) are required to screen digitally-formatted movies. Each KDM, a code for the film, is unique and can work for only a specific cinema hall server and movie title.
Police was deployed at Rex to manage the crowd when the cinema announced it was not screening south Indian film Veeram starring popular Tamil film star Ajith Kumar. Some in the crowd shouted at the cinema staff and refused to leave, media reports said. Rex theatre falls within the 'Little India' precinct where one of the country's worst riots in 40 years took place recently following death of an Indian national in a road accident.
The crowd included Indian workers who had given up their day's salary of 70 Singapore dollars each to see the film but were left disappointed when the screening was called off.
They were eventually given tickets to see the show Friday.