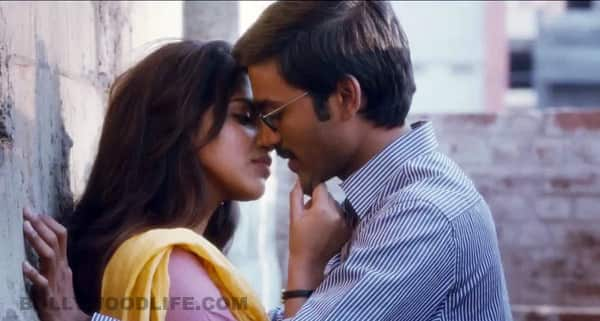 With a dash of quirky humour, a slice of romance, a pinch of sentiments and lots and lots of Dhanush makes VIP a stand out mass entertainer
Make no mistake. Dhanush-Amala Paul starrer Velai Illa Pattadhaari is a commercial film with immense scope of heroism. But there is a difference between Velai Illa Pattadhaari from other mass hero flicks. Dhanush's VIP is endearing and that's what makes it a special film. The story of underdog rising has been the favourite topic of filmmakers for decades and director Velraj tells such a tale while making us root for the zero turned hero. Lets see what's the film about.
What's it about:
The film tells the story of Raghuvaran (ironically named after the veteran Kollywood villain) played by Dhanush, a jobless civil engineer who has a dream to construct buildings and will not settle for an easy IT job following the herd. This unemployed youth lives in a household with a worrying mother, a despising father and an earning younger brother with whom he is compared all the time. Raghu riding on his outdated pedal bike has a chance meeting with girl next door Shalini played by Amala Paul and over a period of time the couple falls in love. By some freakish turn of events, Raghu finally gets his dream job but has to overcome the villainous construction tycoon's son to emerge victorious in his deeds. How he manages to out do every move of villain forms the rest of the story.
What's good:
The first half of VIP is hilarious as it depicts how Dhanush deals with the pressures of society for being unemployed. The transformation from a jobless nobody to a awe-inspiring personality has been handled well as you constantly root for our underdog hero. Dhanush has given his heart and soul to the role pulling off all kinds of scenes, be it comedy,tragedy, romance or action, effortlessly. Dhanush especially stands out as pedal bike riding loser playing it with utmost conviction. His 2 minute breathless dailogue will leave you speechless and his jumping in the air kick sequences will give you goosebumps. Raanjhanaa actor even reminds of Rajinikanth when he spouts a punchline lighting cigarette in some style. Amala Paul does a commendable job as Dhanush's encouraging girlfriend. The chemistry between the to leads hits the bulls eye. Saranya, Vivekh and Samuthirakani bring novelty to their parts with brilliant performances. The music by Anirudh Ravichander is nothing short of sensational. After an expected fight where Dhanush flaunts his six pack abs, the film moves to an unexpected climax which puts a smile to your face.
What's bad: There is not much bad about Velai Illa Pattadhaari as Dhanush pulls the film with a staggering performance. But the film was slow to move off the blocks and could have benefited with some crisp editing. The scenes where Dhanush gathers an army of jobless engineers by posting a video on Facebook is little hard to digest.  Surabhi gets a raw deal as she appears in a blink and a miss role. VIP is also cliche ridden at times with mother sentiments and the age old holy thread tied on hero's wrist to prevent him from fighting, but thankfully both Saranya and Dhanush wins over the audience with their endearing mother-son relationship. The villain of the story, though poses lot of troubles to our hero, is not menacing enough.
What to do: If you are Dhanush fan, you certainly don't need my opinion. And if you are not, the star makes sure that you will be his fan after watching VIP. Go for it guys! Last but not least 'Dhanush ku whistle podu'.
 

Rating: 3.5 out of 5
Reviewed by

Subramanian Harikumar

* Poor

** Average

*** Good

**** Very good

***** Excellent