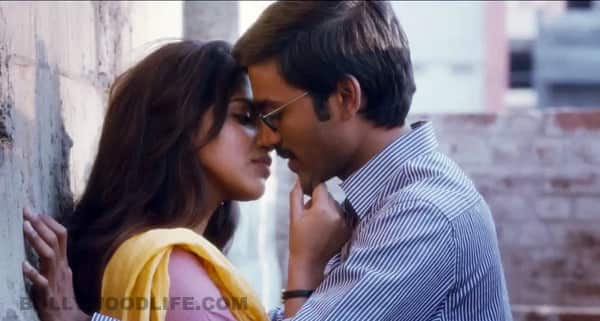 After waiting for quite sometime, the trailer of this year's most anticipated release is out and it is out in some style
When you see Dhanush in real life, you see a extremely lean man with average looks. But when you see Dhanush onscreen, you are awestruck at the transformation of this average looking common man to a show stealing superstar. After having proved his mettle with a barrage of captivating performances, Dhanush is back with a bang as jobless loser.
After a long wait of nearly four months since its music release, the trailer of Wunderbar Production's Velai Illa Pattadhaari has been unleashed in the public forum. And Oh boy! it is worth the wait. As the Dhanush fans rejoice to see the trailer of their favourite star's much awaited film, Bollywoodlife brings you five reasons why we loved the trailer of Dhanush's Velai Illa Pattadhaari:
The trailer starts with Dhanush in fine form pulling of the role of jobless engineer with flair. His body language of a youth struggling to keep his head up in society is top notch and often brings a smile on your face. His interactions with his father, mother, friends etc. manage to tickle the funny bone.
Velai Illa Pattadhaari trailer showcases Dhanush's awesome transformation from an unemployed loser to an charismatic go-getter. And he does that with some style beating goons along the way of course. His dialogues delivery reminds us of his father-in-law Rajinikanth.
Anirudh Ravichander's music and background score are in perfect sync with the mood of the film keeping the energy levels high in the viewers.
The film has been shot in such style that it matches step to step with Dhanush's unique body language. The stunts have been captured with great proficiency and the dialogues hit the bulls eye in conveying the film's message.
The barrage of talented actors in the team like ace comedian Vivekh, recently married starlet Amala Paul, popular actor Saranya etc manage to keep the tone of the trailer light and upbeat, so that the audience can have enough reasons to keep smiling.
With audio already a colossal hit among the public, this terrific trailer is only going to raise the bar of expectations from VIP. In short, Dhanush's  145 second journey from zero to hero is spell binding. Two thumbs up for Dhanush's Velai Illa Pattadhaari trailer!
Watch the trailer below!