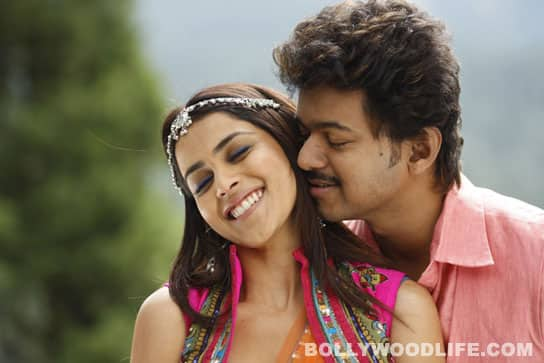 If you are ready to forget logic and engage in about two-and-a-half hours of make believe, then you should be rushing to watch superstar Vijay's Velayudham
True to form, Vijay Ilayadalapathy provides his fans with a dish that has all the ingredients of the typical Kollywood potboiler. Directed by Jayam Raja, the movie includes all the ingredients that one associates with any of Vijay's movies. It has action, comedy, some good music and dances thrown in together with dollops of sentiments. Raja has managed to deftly package all these elements into a slick entertainer that has 'paisa vasool' written all over it.What's more, you needn't bother about any twists and turns in the script that is ram rod straight and has drawn liberally from earlier hits like 'Azaad' (Tollywood) and 'Indian' and 'Anniyan' (Kollywood).
The story revolves around television journalist Bharathi (Genelia D'Souza) whose plan to end corruption involves creating a fictitious character called 'Velayudham'. She spreads the word that this person is out to punish all wrong-doers like the old man (Kamal Hassan) did in Indian a decade ago. Things tend to go wrong when a happy-go-lucky village milk vendor of the same name gets embroiled in this plot. This country bumpkin, who lives with his sister Kaveri (Saranya Mohan) and cousin Vaidegi (Hansika Motwani), goes to the city to withdraw money saved for a wedding and finds himself in a spot of bother. Circumstances force him to meet Bharathi and he decides to take law into his own hands by taking on the identity of the fictitious Velayudham created by the journalist. Of course, the rest of the movie dwells on how the proverbial good triumphs over evil as the milk vendor turns into a vendor of justice. The movie takes off from where 'Kavalan' left and Vijay appears at ease doing what he does best – playing to the gallery. The role is a cakewalk for the actor, who however does impress with some mind boggling stunt sequences. Maybe, this is Vijay's way to score a point over rival Ajith and Vikram!
True to form, the leading ladies have very little to do and Hansika and Genelia almost sleepwalk through the movie. They look good on screen and add a bit of oomph. Comic relief is provided by Santhanam while the bad guys are led by Sayaji Shinde with Sampath Raj and Manivannan playing second fiddle. Priyan's cinematography and Tom Delmar's stunts are akin to watching fireworks on Diwali night. They gel well and makes for quite a treat. The movie is not inordinately stretched, thanks to VT Vijayan's deft scissors. The music and background score by Vijay Antony adds a zing to the proceedings. To sum it up, Velayudham, produced by Aascar V Ravichandran, might not work well with the multiplex audience. But, the film could strike the right chord with others, especially those who would like to watch a cracker of an entertainer. It is a movie that entertains unabashedly by doing away with our thinking caps.