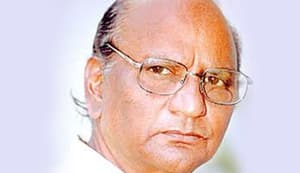 Colleagues remember the great director and describe his death as a great loss
Well-known south Indian filmmaker-editor KSR. Doss, credited with successful movies in all southern languages, passed away in Chennai Friday evening. He was 75. He died at the Apollo Hospital where he was admitted for treatment of age-related health problems.
Terming the successful director's death as a great tragedy to the south Indian film industry, actor-filmmaker Dwarakish, who has made several Kannada and Tamil films, remembers Doss as a great human being and a talented director. "In the year 1975, I brought Doss to the Kannada film industry to direct an action entertainer like Kalla Kulla which was a runaway success. He directed several commercially successful Kannada films later. He was always a producer's director," said Dwarakish. He also said Doss made several blockbusters with southern stars like NTR, Rajinikanth, Dr Vishnuvardhan, Krishna, Ambareesh and Shankar Nag.
Film director D Rajendra Babu, who worked with Doss as an associate director in many projects, described the latter as his mentor. "Doss sir was a film technician with exceptional talents. He taught me everything from editing, direction, shot composing in film direction and also how to behave with top stars, cine technicians and producers. He treated me like his son. Doss sir's death is a big tragedy in my life," said Babu.
KV Chandrashekhar, president, Karnataka Film Chamber of Commerce, said Doss made great contributions to the Kannada film industry.
Doss, born in a small town of Andhra Pradesh, directed more than 20 Kannada films. He did many films with Telugu top stars NTR, Krishna (more than 30 films), Chiranjeevi and Shobhan Babu. Doss started his film career as an assistant editor to become one of the most sought after film directors in the south. He directed about 100 films in Telugu, Kannada, Hindi, Tamil and Malayalam.
Doss, who received the prestigious Puttanna Kanagal award, stayed in Bangalore for a long time and moved to Chennai just a few years ago. His films include Sahodarara Savaal, Snehithara Savaal, Chinnadhantha Maga, Bangaaradha Gudi and the superhit film Khaidhi, which gave a major lift to Dr Vishnuvardhan's career. Doss directed 12 films with Vishnu and one successful film Thirugubaana with Ambareesh.
He was also credited with introducing women-oriented, full-length action movies with Rowdy Rani (1970) and cowboy movie Mosagallaki Mosagadu (1971).