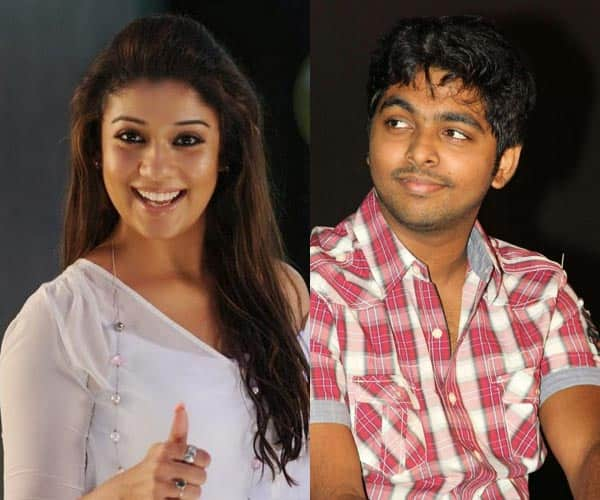 The sources claim that the sexy Billa girl Nayantara has given her consent to makers of Trisha Illana Nayantara to use her name in the film's title
The nephew of musical genius AR Rahman, music director GV Prakash is buzzing in the gossip circles thanks to his decision to take up acting. Couple of months, the music composer turned actor who is about to debut in Pencil,  had signed an another film titled Trisha Illana Nayantara. Since then the film has received huge attention thanks to its catchy yet controversial title.
It was believed that the film could  run into trouble if any of the two popular heroines Trisha or Nayantara object on film's title. Well at last the film is distancing itself from rough waters, when the sultry siren Nayantara gave permission to the makers to use her name in the film's title. The film which is touted to be a romantic comedy has lifted the title from a famous Vadivelu comedy.
Apparently, Nayantara wrote a letter to the makers of Trisha Illana Nayantara giving them consent to use her name and kindly requested to not to use any of her real life controversies in the film. The Raja Rani starlet also requested the makers to not to show her in  bad light. Our little birdie tells us that Nayan's friendship with GV Prakash is the reason why the actor has not objected the film's title.
With Nayantara giving green signal to GVP's project, it would be interesting to see what Vinnaithandi Vaaruvaya babe Trisha has to say about the film. The makers are keeping their fingers crossed eagerly awaiting Trisha's approval. Well so are we!