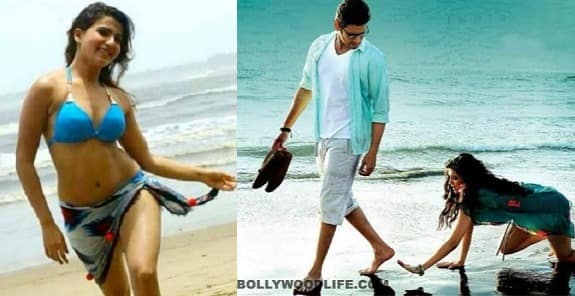 The fans of the Aagadu star criticised the diva for her bold bikini scene in Anjaan
Tollywood heaved a sigh of relief when Prince Mahesh Babu and Samantha ended their cold war earlier this year, at 61st Filmfare Award South. But it looks like the fans of the Aagadu actor are still irked at the comments of Alludu Seenu babe and were in no mood to let bygones be bygones.
If you jog your memory a little, you would remember how Samantha had termed a poster of Mahesh Babu's 1:Nenokkadine as regressive. The poster which featured Kriti Sanon following Mahesh on all fours along the sea shore, did not go well with Samantha, as she openly expressed her disappointment on social media. This remark from Manam actress irked the Dookudu star's fans as they took an umbrage against Samantha.
Now when Sam had flaunted her sexy side by sporting a bikini in Suriya's Anjaan, the followers of Mahesh Babu were swift to condemn the damsel alleging that the actress should not have criticized Mahesh Babu's 1:Nenokkadine still as regressive, as she herself is appearing now in a regressive manner.
Even though the two stars have kissed and made up, the fans of Mahesh Babu seem to be reluctant to bury the hatchet. Will Samantha respond to the comments raised by angry fans? Lets wait and watch!