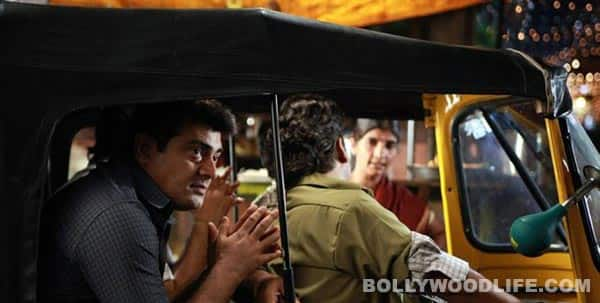 The makers of Ajith Kumar's Billa 2 cancelled the trailer launch of the film on Monday
Kollywood is caught up in a guessing game, dishing out the possible reasons for the sudden cancelling of the Billa 2 trailer launch function which was scheduled to be held in Chennai on Monday evening. Many theories are doing the rounds. Draw your own conclusions!
– There was a tiff between producer Sunil Kheterpal and distributor Aascar V Ravichandran over the television rights of the event, following which the function was cancelled.
– The event was initially planned for three hours. But the dance troupe roped in for the entertainment was able to prepare only a 60-minute programme. So the producers dropped the event.
– Some celebrities who were invited as special guests backed out at the last minute, since Ajith, the hero of the film, was himself not turning up. Hence, the cancellation for want of star presence.
– The venue, the auditorium of the Anna Centenary Library at Kotturpuram in Chennai, was in a legal tangle as a public interest litigation was filed in the Madras High Court against renting it for private functions. The Court on Monday took up the petition for hearing and banned the government from renting it for weddings and receptions. Anticipating the verdict, the officials of the library withdrew the permission given to the Billa 2 producers to hold the function there.
Meanwhile, the trailer of Billa 2 was launched on YouTube on Monday, and it has witnessed tremendous patronage among Ajith fans.