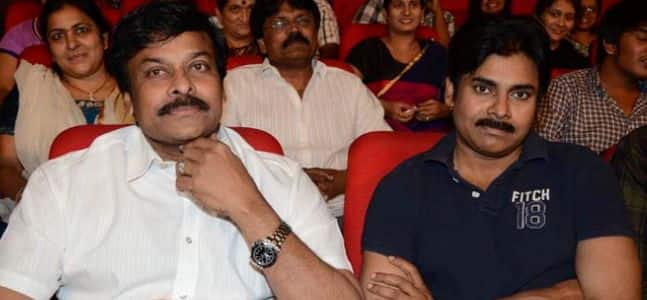 The brothers, who were at loggerheads due to different political views and beliefs, may sort out the differences between them
The election season this year was touted as a big fight between two most popular and loved brothers of Andhra Pradesh. It was Congress supporting megastar Chiranjeevi vs Narendra Modi rooting power star Pawan Kalyan. The battle was expected to be fierce, but it turned out to be a damp squib as Pawan Kalyan backed BJP-TDP alliance enjoyed a rousing success in the elections 2014.
With the election results announced, declaring Pawan Kalyan a clear winner, will the Tollywood's favourite brothers bury the hatchet and resolve the differences between them. Recently Pawan Kalyan stated the following to the media "I am just a one man army at Jana Sena Party and I will slowly start building my team over the next few months. I must clarify once again that I am not power hungry and I supported Narendra Modi and Chandrababu Naidu because I believe that they'll do good for the society. Obviously, I have hurt my brother, Chiranjeevi, by supporting TDP and BJP, but I believe that national harmony is more important than the well-being of my family alone".
Earlier in March, Chiranjeevi welcomed his brother Pawan Kalyan's decision to float a political party but also expressed his disappointment on power star's decision to support and campaign for Modi. Chiranjeevi has received a lot of flak recently for his anti Modi remarks and his polling booth jumping the queue antiques.
With the elections over and not much to do for the brothers in political field, one wonders if the two stalwarts of Tollywood will get back to old friendly terms.