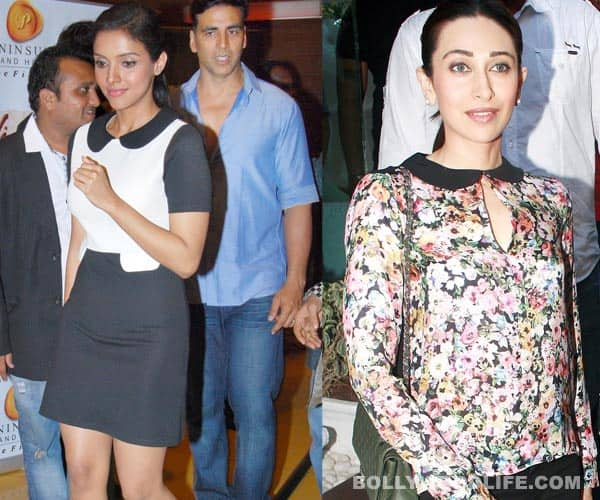 Just when you were looking wistfully at those Page 3 babes, getting inspired by their glamorous get-ups and yearning to add another redundant outfit to your closet, we suggest you look again, 'coz these B-town babes are fast transforming from glamorous fashionistas to casually mischievous chicks
You may or may not be a huge fan of celebs opting for a not-so-glam-look, but that's the trend that's increasingly doing the rounds of Bollywood lately. Incorporating a balanced mix of casual and glam elements into their styles, a lot of Bollywood babes are opting for ensembles that don't shout out loud, but at the same time don't look too understated. Matching this criterion perfectly is the Peter Pan collared look that a lot of our Bollywood babes have been flaunting.
Asin opted for a classy black and white Peter Pan collared dress recently which she teamed with gorgeous block heels. The style bought out the best in Asin, amplifying her playful demeanor and balancing it with a hint of formality.
Although many have tried and tested this style, with some coming up with a gallimaufry of sorts, a few have managed to impress us with their aesthetic sense. For instance, when we saw Karisma Kapur in a vibrant Peter Pan collared top from Zara, we though she looked stunning and we loved the fact that she gave her own quirky twist to the formal style that's usually perceived as boring.
Casually glam or glamorously casual, we wouldn't bother to get into the nuts and bolts of this style terminology as long as these babes keep it simple and right. And we will continue giving them a thumbs up by flashing our playful, Peter Pan smiles.