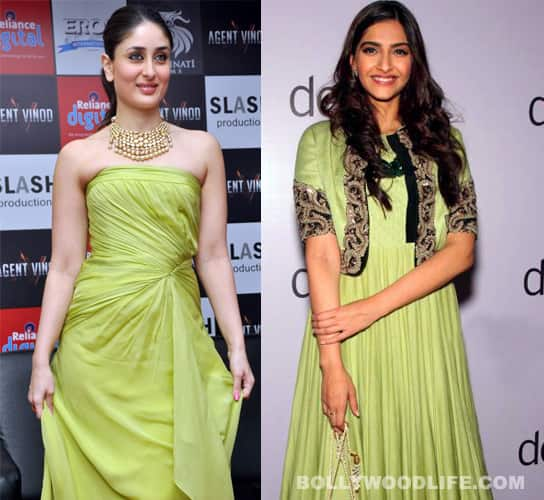 We spotted Kareena and Sonam recently in similarly lime-coloured outfits. Although the patterns are drastically different, what caught our attention was the soothing chartreuse colour, a breath of fresh air amidst more conventionally favourite red carpet hues

No doubt the Kapoor babes rock the fashion scene and are capable of carrying anything and everything off with absolute elan. But when these fashionistas introduce something new for their palatial wardrobes and flaunt it the very next day expecting people to appreciate their new possession, we guess it's just about being human. So as Bebo and Sonam did the same by donning a colour that reminds us of lush foliage and Mother Nature, we quite like the fact that the babes made the effort to move on from the gorgeous blacks and seductive reds and all the other shades which have been worn, shown and flaunted to death. We like Sonam's flaring gown that she very elegantly teamed with a bling shrug and minimal accessories. Kareena, on the other hand, was seen in a pretty strapless gown with a ruched effect on the bodice that she wore with a nifty neckpiece.
The Kapoor gals have definitely won our hearts. That should compensate for the duds they have given us lately (Sonam especially). So now you know how to make up for delivering a stinker the next time around, we hope!