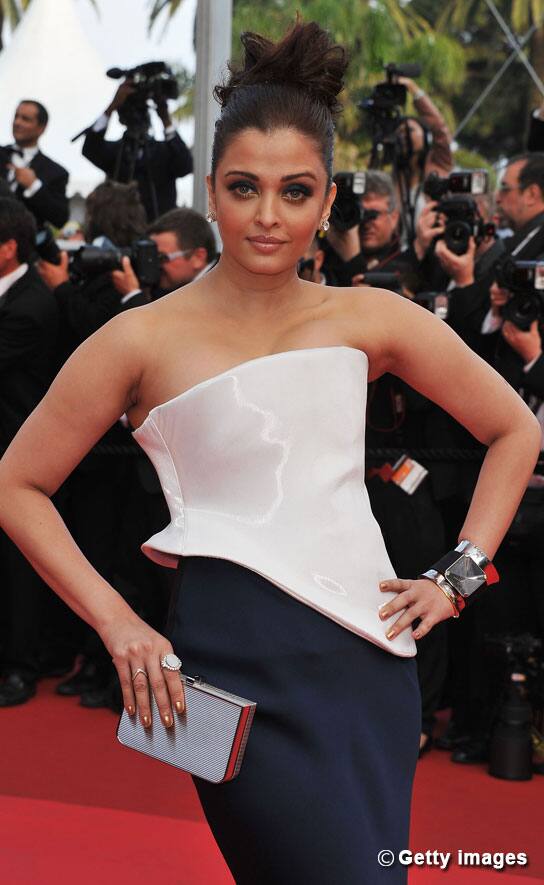 This year the Cannes film festival seemed to be like a Bollywood premiere. I say this simply because some people deserved to be there and were, while some just got lucky. Even designer Shahid Amir of Sunanda Pushkar and Fardeen Khan fame was there, his Terra Mater collection showcased at the Villa Oxygene
At the opening ceremony Aishwarya Rai-Bachchan walked the red carpet dressed in a one-shouldered Elie Saab Spring Couture gown. She chose Saab because she wanted to play safe with the fashion press, one presumes, but the bare one-shouldered design exposed her forearm bulges and well-rounded middle and, believe us, the extra flesh didn't look too appealing. Last year, Ash chose Saab and was not skewered too deeply by the fashion press, but this time the critique has been pretty strong – the gown with peplum detailing should have been avoided. The nude hue of the gown didn't work for her at all, nor was in rhythm with spring/summer, nor did it say anything about the fashion forecast for the coming season. The former Miss World has denied all rumours of pregnancy, but there is a difference between lying and hiding. A baby bump may have been able to explain away the 'healthy', 'substantial' or 'more curvy than usual' appearance, commented on so cattily. After all, pregnancy can be a stunning style statement; flashback to Jessica Alba, Nicole Kidman and Cate Blanchett. Considering it was Aishwarya's 10th consecutive season at Cannes, we really hoped that this time, her stylist would get it right. Maybe she had a new stylist, a fresh makeup artist? Whatever…but the hair person did get it spot on. The only thing worthy of unstinted applause was apna Ash's hair, with its auburn highlights and elegantly styled in an updo. Very chic. And then you looked at her lovely face and wondered what happened there: the makeup was greasy, reminiscent of butter chicken rather than butter-would-not-melt-in-her-mouth. Ash, honey, stardom attracts mirth, so choose wisely! Day two redeemed the star's shaky fashion rep a bit, more because of the dress than her look. Ash walked the walk in a gorgeous cream and indigo Armani Prive gown with her hair in a nicely edgy high chignon and lots of dark blue eye stuff going on. In my opinion, the gown was stunning, but the tresses should have been loosened-up, with a darker shade of the lip colour sparking her luscious lips and a Judith Leiber clutch to add that extra touch of drama – something that her fabulous bracelet did provide. All in all not a bad red carpet moment for Aishwarya, but a little less of the star herself would have had a little more of a positive style impact.
PS:  Minissha Lamba attended the opening ceremony of the 64th Annual Cannes Film Festival wearing a Gauri and Nainika gown. Why, lady? This was your chance to get noticed, look beautiful, and get a role or two. Instead, you came, posed a little and then went…though not as fast as the Nawab-man Saif Ali Khan did, of course! Maybe both of them should have taken lessons from Mallika Sherawat on how to promote themselves.