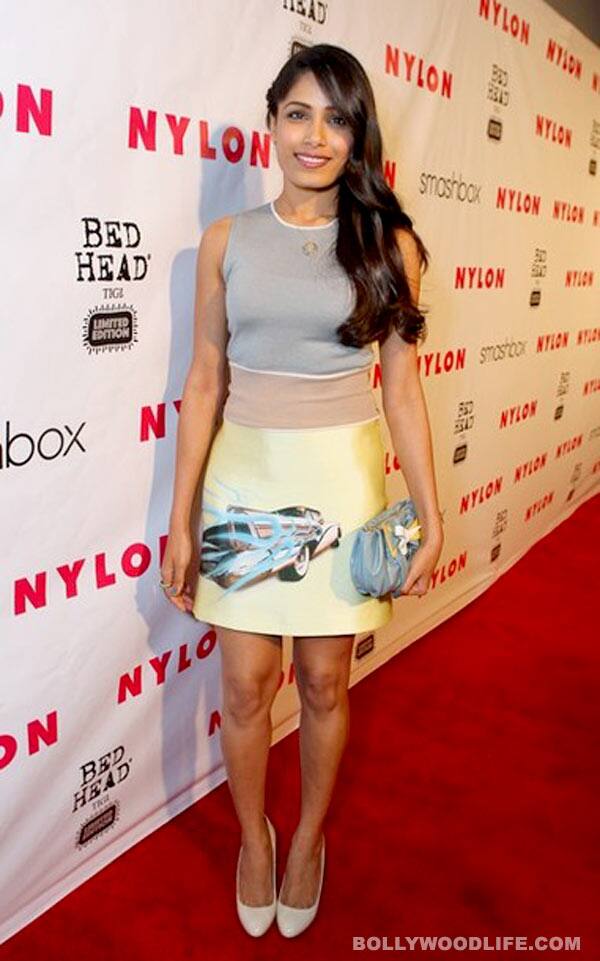 At least that's what her flaming car-printed Prada dress implied; she flaunted it amazingly well at Nylon magazine's 13th anniversary bash
Looks like the blazing babe has learned the ways of the glam world and how! She was seen in a perfectly colour-coordinated avatar at a recent event and honestly, even if we were bribed to spot a glitch, we couldn't have. Her feminine bow clutch matched her light-hued dress and those ivory-coloured pumps looked supremely classy. As if that wasn't enough, she added to her nearly perfect look by showing off prettily manicured blue nails.
Her sideswept hair teamed with the overall ensemble gives a very vintage feel to her look, and the imprinted flaming car just adds a funky effect to this old school style.
If only Pinto's flaming car would halt at a place where they taught her to improve her thespian skills, we would have had been super glad, but looks like Frieda is in a mood to gloat only over her la-di-da fashion victories.