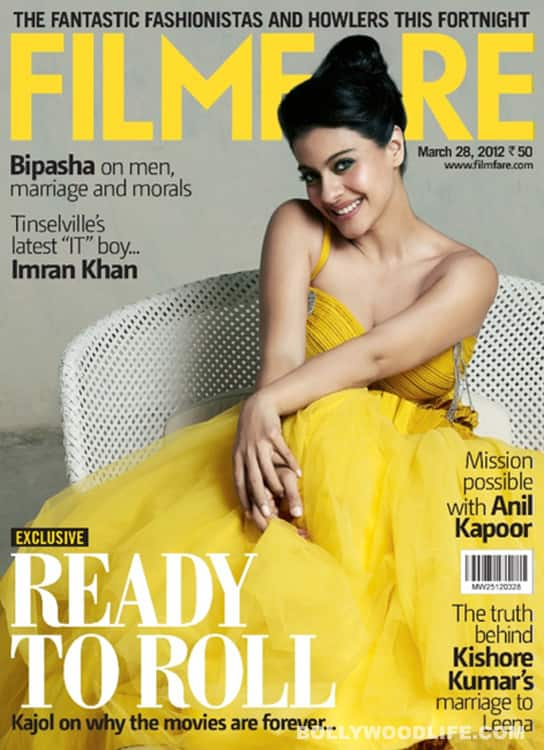 skip advertisement
The actor features on the cover of the March issue of a popular film magazine and we must say she hasn't just lost weight – the glow on her face is something we haven't seen before!
The axiom that some people are like wine and only get better with age was mainly relevant to only the men in the film industry, so far. But we are glad that times are a-changing and babes like Kajol are leaving no stone unturned to hop on to that bandwagon. You have to concur that this mother of two looks stunning on the cover of Filmfare magazine. She's posing with stylish, effortless ease on a virgin-white quilted chair. It looks like she's taking a much-needed two-minute break from the everyday hustle-and-bustle of looking after her tiny tots. And yes, she did mention in the interview attached that hubby Ajay (Devgn) makes sure that she doesn't lose her cool with the kids when he's around. Now taking a break from all the kid and hubby talk, other snaps of Kajol reflect a hint of gratitude and contentment on her face. With all those awesome movies and with a picture-perfect family to boast about, the Bong babe makes elegant eye-candy in a sunshine yellow voluminous Shantanu and Nikhil gown. A neat chignon, that I-am-all-set-to-be-pampered smile and a mischievous look – Kajol is literally basking in the attention she's showered with.
We think you should be part of many such photoshoots, Kajol, it definitely brings out the best in you!