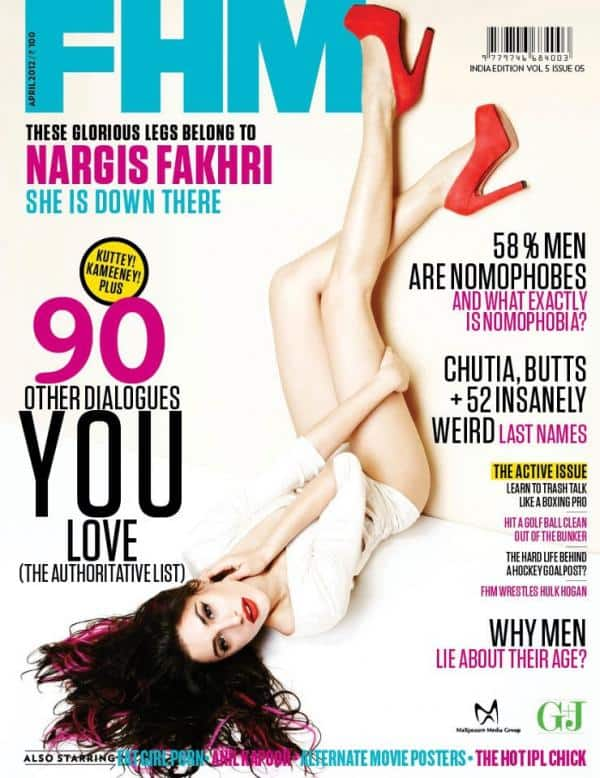 The Rockstar babe cranks up the heat as she turns upside down and shows off those unbelievably sexy, looooong legs!
She makes you turn your head yet again, and this time around, quite literally! Nargis Fakhri, born to a Czech mother and a Pakistani father, is a sensationally beautiful blend of western chic and eastern mystique. The 32-year-old American import enticed us with her refreshingly different, charismatic looks in the Ranbir Kapoor-starrer Rockstar. Ever since then we have been keeping a close watch on her every move.
And now Nargis grabbed us by the eyeballs when she chose to grace the cover of the well known men's magazine FHM. What got us hooked are those interminably long legs! Starting from those gorgeous red platform sandals our gaze wen downwards along Nargis's toned limbs to the enviable curve of her hip. And as we scrolled further down, our bulging eyes were mesmerised by Nargis's face. We just could not move beyond that mischievous glimmer in her eyes, that hypnotising red pout and the rumpled pink streaks in her hair.
Dressed in a stunning vanilla top Nargis works her charm by striking that spellbinding pose.She looks authoritative, blunt and yet very vulnerable – a desirable mixture that makes men go weak in the knees The hues used on this cover are very futuristic and do full justice to the spread.The fandango pink and turquoise blue add a lot of punk and interest to the overall effect. In summation, we love it, we love, we love it!