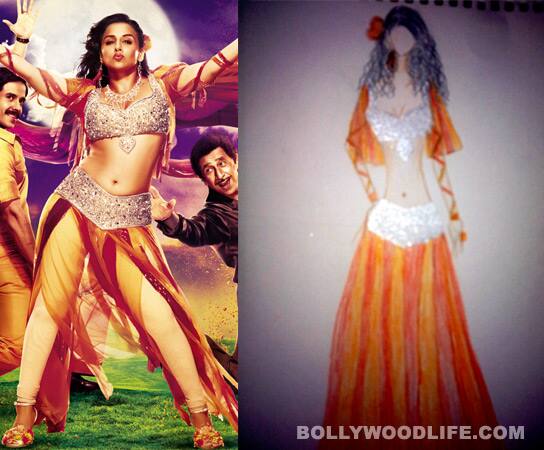 skip advertisement
Meet the person who dressed Vidya Balan from head to toe in 'The Dirty Picture' … Designer Niharika Khan says that it's a cakewalk to look as sexy as Vidya Balan in the movie, if one is willing to look around for such interesting clothes and learn how to treat their bodies in a sensual manner
In a short span of just four years in the film industry, Niharika Khan has worked on a varied range of films like Delhi Belly, Khoya Khoya Chand, Rock On and many more. Desperately craving a holiday as she wraps up designing for The Dirty Picture, this funky-looking designer has exhaustion written all over her face. But the one thing that keeps her from delaying the much-needed vacation is probably the passion she has for her work. Guzzling spoonfuls of soup from her bowl, Ms Khan talks about dressing Vidya Balan, her stint in the world of design and, amidst all this, doesn't forget to point out to her children the beautiful yellow bird chirping outside her window. Mighty impressed with this street smart mother's multitasking abilities, we march ahead with the conversation at full throttle…without any breaks! 
How did you react when you were offered The Dirty Picture?
I was very confused, as I was approached in a very strange way. The executive producer came up to me and said that considering I charge a lot for my assignments, would I be interested in doing the film. No one had ever offered me a film this way before. But later I read the script and I was so enthralled with that world, with that era, that there's no way I didn't want to do it.
If someone wants to look sensuous and sexy like Vidya Balan, tell us what she has to do, where she has to shop from – are there any economical options to achieve that look?
I think most importantly you need to know your body. You have to know how to treat your body in a sensual manner. If you want pure cotton sari options, you can easily get something in the range of Rs 2500-3000. If you want something with embroidery, the prices would get a little higher and range between Rs 6000-7000.  There are always economical options to make clothes look pretty. Also, don't forget that I can cheat a lot here considering Vidya's clothes would be visible only on the screen, but in real life you can't cheat. The design needs to look pretty; one can't get away with a lot of sparkle and shine, as I did in the movie. If you really want to get the Vidya look, you can shop from Bandra's Hill Road. Even the Andheri market outside Andheri station is pretty popular.
So you picked up a lot of stuff from local markets for the movie?
Yes, I could only pick up stuff locally. I did not have a budget to travel or shop abroad or from Kerala. We had to do with what we get here. We had to go to parts of Mumbai where we get interesting stuff. Chor Bazaar is a very interesting place, you always get something that's out of the norm. And hence we picked a lot of materials from there as well.
 Did you have a particular fabric and texture in mind that you wanted to predominantly use on Vidya?
Of course we did a ton of research for the film. Planning is ultimately going to save you a lot of money. We knew that we had to work on ghagra style skirts with pleats that you see in the movie. Also, for instance, when Vidya becomes a star in the film, we knew we had to use a lot of synthetics. In one of her phases we knew that we wanted her to look a li'l downmarket and hence we used materials that made her look like that.
We heard you and Vidya went shopping together – any fun anecdotes?
Oh yes, it was fun to hear Vidya talking in a South Indian language with the shopkeepers. There was a point when she was asking the shopkeepers to show her saris and in the middle of it he just stopped, looked at her and blurted out, 'Actress-ah?' with a typical South Indian twang. That was funny. After a while I was asking her opinions, as if she was a part of my crew.
You think that between the director's brief and actor's tantrums, the designer doesn't get enough leeway to work the way she wants?
I think one really needs to prove oneself in this industry. I don't think 'tantrums' is the right word. Actors know their body the best and just have an opinion about how they should look. Honestly, if someone instructed me how to dress, I would kill that person. You have to take into consideration their opinion and if you want to tweak it, you have to be smart enough to figure a way.
Most gratifying assignment till now…
I want to say Delhi belly. The team was very close knit. I had to create those funky t-shirts for the movie, which was fun. Rock On and Rocket Singh were also great.