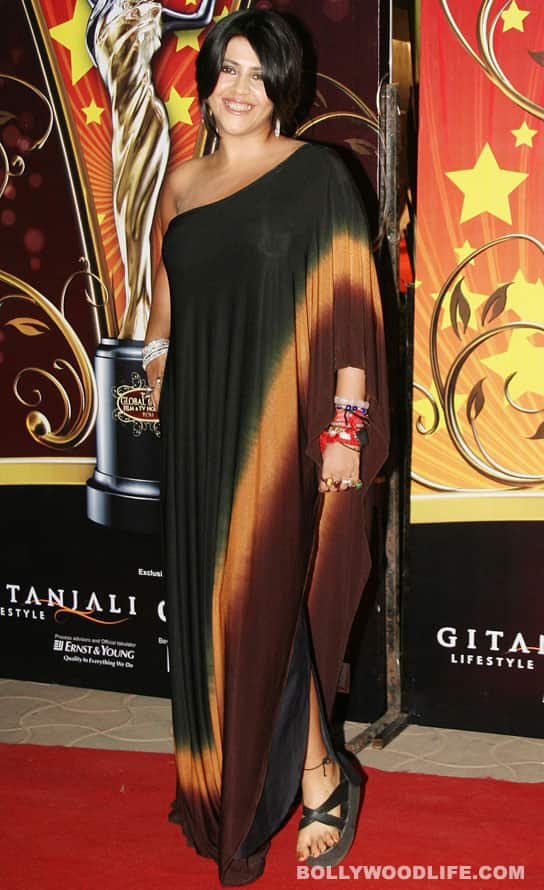 Darling Monica has decided views on Ekta Kapoor, soap queen and fashion disaster, and makes her feelings on Amrita Rao's style statement very clear…
Ekta Kapoor is undoubtedly the Indian soap queen. But when it comes to fashion, her taste needs to evolve. Far from being sexy, Ekta's hairstyle has a couple of variations – the bob and the layers. And of course, there is the layers and the bob! It may work for your shows, lady, but your hair? I guess it gets kinda tough to create redos of your own oeuvre.
Last week, Ekta was spotted wearing a coral gown at the premiere of her film Ragini MMS. She has been in kaftan mode for months now. Ekta's favourite designer is Malini Ramani, the one known for skimpy beachwear and skin-tight togs. The soap queen seems to have Ramani's kaftans (or are those sexy satin bedsheets?) in all hues – coral, black, pink and beige, with ombre effects and tie-dye edges (were there some special discounts on the kaftans? Hate it when I miss out on bargains!). And there is more to the fashion misdirection. Her shoes are a constant too, those ugly, clog-ish clodhopper platforms that can kill any fab pedicure. Why, lady? Have some mercy with the style sense there! Get a stylist, there are plenty of them available. Trust me, they will do a great job.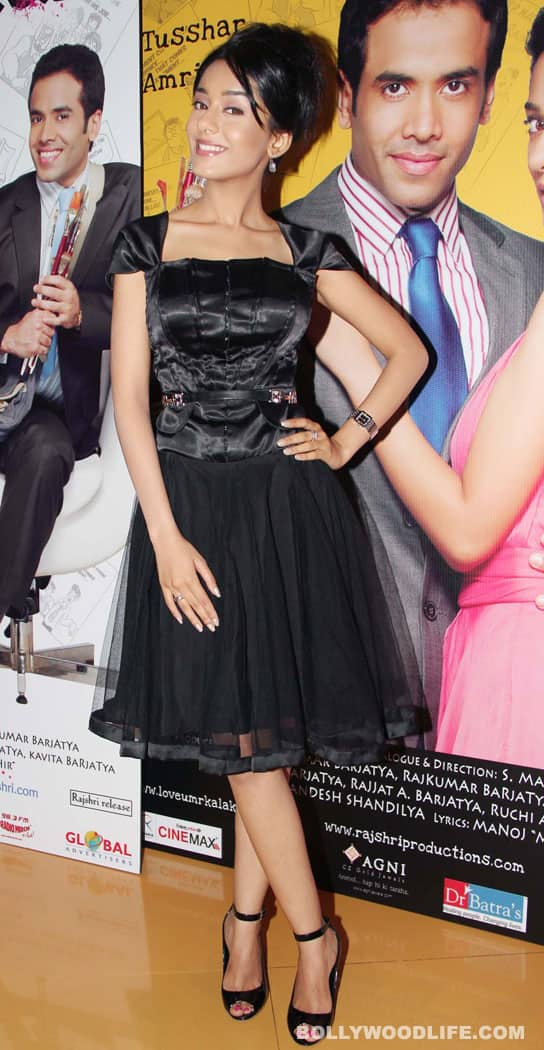 The second on my long list of 'somebody help her' is Amrita Rao. The star has been part of the filmi duniya for over eight years, but still dresses like a schoolgirl. Aren't you over-age to show up in two plaits with double-shaded rubber-bands, woman? And, lie not to me, I have seen those huge multi-coloured danglers before…too often. Most of Amrita's reel characters are bathed in misery. Her onscreen appearances are beautifully vacuous; the only dream her character has is marriage and to serve her to-be husband and the in-laws. And this petite actor has taken this image to heart, methinks more so than she needs to. Over the last few weeks I had my eye on her, as Amrita was busy promoting her latest movie Love U… Mr. Kalakaar!. Sometimes she looked sane and cool in coloured denims, but then she destroyed any vestige of fashion good sense for the premiere. A black skirt with a shiny corset and that '60s hairdo! Ugh – wonder whether she is trying to get an entry for a record category that reads: 'I dress the worst on the best days of my life'…
Amrita recently got a new haircut – we like, we like – a good beginning to revamp (or save?) her overall look. Her shoe choices are so much better than Ekta's clunky fave, but there go those black strappy heels…again! About four out of five times the actor plays it safe and traditional. Hey gal, we all have our favourite pairs, even me, but, really, even if you aren't doing that many films, surely you can buy yourself a few more pairs of shoes? With a neat shape like yours, methinks you need to wear dresses in solid colours, or with big motifs with short skirts and forget the denims and tees for a bit. Get nude, neon blue, or pink stilettos and you will see even the most vicious pit bulls of B-town lay down peacefully at your feet, wagging their tails.