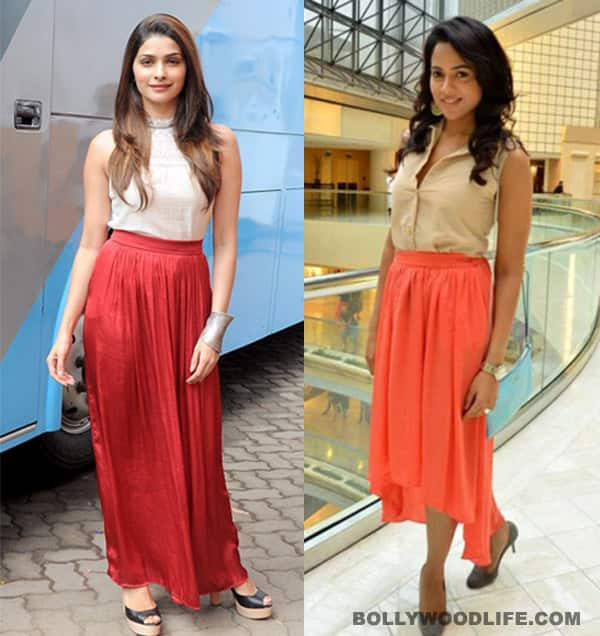 The babes were spotted shunning the conventional route when it came to creating a statement by sporting cool skirts
So while Ms Desai chose to wear a pretty maxi skirt, the Tezz chick Sameera Reddy opted for a skirt with a high-low hemline. And although we love the pieces the beauties decided to don, we think Sameera is a step ahead here. It looked like both of them went slightly experimental with their skirt styles, and while Sameera's attempt at trying something new worked Prachi, on the other hand, couldn't create much of an impact.
Reddy looked awesome as she teamed a nude shirt with an asymmetrical orange skirt. The Bol Bachchan babe managed to grab eyeballs, but we aren't quite in favour of the block heels she wore with her chic ensemble. A flat pair of feminine sandals or a sexy pair of low heels would have had been a better option, especially when you planned to wear such an elegant skirt, Prachi!
Reddy has become a sort of a style freak lately. And there's no denying that we see her in amazing avatars every other day. But we wonder what's with Prachi. Maybe just like Reddy, she's in one of those 'I want to look the best' phases too…and we must say she has got off to quite a flying start…