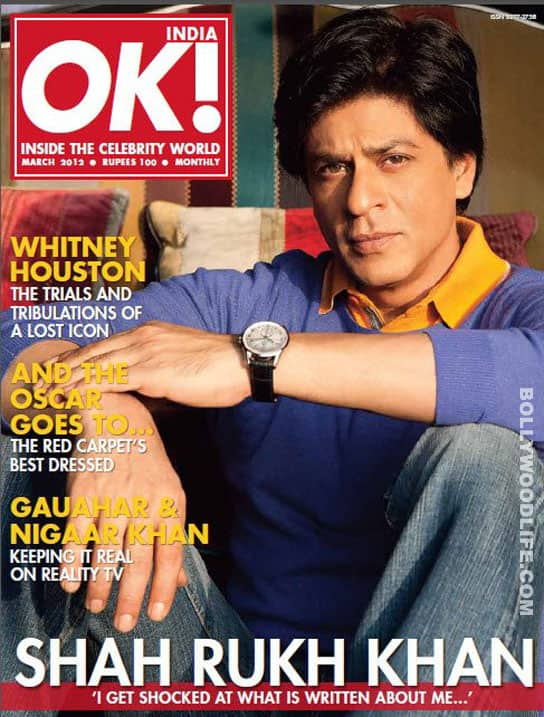 The Badshah of Bollywood speaks his mind without saying a word on the latest cover of a society magazine. We wonder what is troubling the most successful man of B-town…
Gracing the cover of OK! magazine, Shahrukh Khan's square-in-the-eye gaze certainly sets the otherwise cool frame on fire.The thoughtful Khan adopts an unconventional pose for a man. But then SRK is different, isn't he? He can turn the conventional rules on their heads, even for a picture! Everything about this cover is just perfect. Surprisingly, not a strand out of place for the actor who almost always likes to keep it messy, scruffy and real. Though this cover shot looks sun-drenched and has a certain warmth about it, SRK looks like he is in a pensive mood. "I get shocked at what is written about me," roars the strapline. Looks like Shahrukh is getting a bit defensive here. We would like to guess that SRK is talking about his alleged link-up with Priyanka Chopra or his infamous slap-gate episode, or maybe both.
Dressed in a light mauve full-sleeved T-shirt with a collared amber tee beneath, SRK keeps the colour-coding linear by wearing stone-washed jeans. A black chronograph on his wrist completes the look. We loved the ambience SRK is nestled in. It gives a homely feeling with those cushions placed in the background, a nearly perfect setting for a heart-to-heart talk. But what stands out the most is the fine blend of brightness (which SRK is unmistakably known for) and the understated sombreness that is created by using SRK's reflective eyes. Pretty impressive!