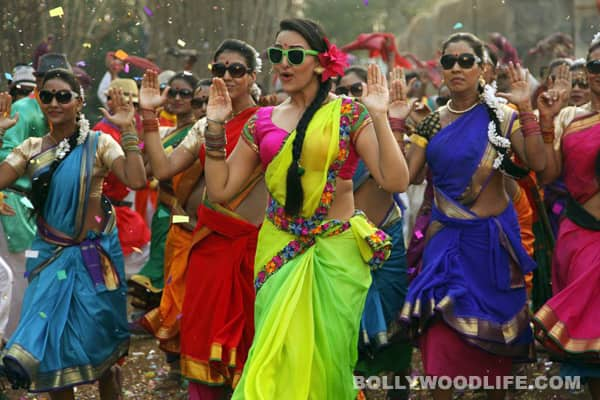 Looks like the Rowdy Rathore actor is really running low on inspiration when it comes to experimenting with style. And we wonder why
When Sonakshi Sinha first made her debut in Salman Khan's Dabangg, we applauded the babe who wore bright coloured Indian outfits, primarily ghagra cholis, and managed to look pretty and fresh. Then came Rowdy Rathore, and we saw the Sinha babe in those similar-looking outfits, yet again. The masala film demanded her to repeat her style, perhaps?
But what's this! While looking at the pics of Shirish Kunder's forthcoming movie Joker, we are again hit by a sense of déjà vu. Sonakshi will again flaunt her thumkas in the same brightly coloured ghagra cholis. Sigh!
But wait. It's not only the ghagras that are making Sonakshi's style statement. We notice that sunglasses have become an essential part of her wardrobe, especially for Joker. But guess what, those glares too aren't really original. The heart-shaped shades made their debut in Dabangg, albeit as a part of Salman's look. Sigh again!
And all this makes us wonder what it is that's preventing this pretty lady from making a unique and never-seen-before kinda statement. Her well-filled frame? Or her large forehead? Whatever it might be, we hope that Sona manages to find a new way around it, and pronto. 'Coz adding neon-rimmed glasses (like in Joker) to her style failed to do the trick. Right, readers?