Want to look like Vidya Balan?
BollywoodLife
Last Updated: 1.24 PM IST 01.31.2012
With the wedding season just around the corner, even the thought of going on a full-fledged shopping spree in the middle of all the organising and planning can be quite distressing
As flaunting some bling is compulsory on such occasions, it can be quite a task to hunt for places that give you a good deal on shiny, glamorous saris. When we spotted a recent picture of Vidya Balan at the Apsara Awards, we wondered if it was possible to look as gorgeous as she did. As always flaunting a Sabyasachi design, her dazzling organza sari left us awestruck. If you are wondering whether only biggies like Balan can afford such sartorial styles, the good news is that you can too. People who aren't willing to loosen their pursestrings that much can find a range of Bollywood-style saris in almost every nook and cranny of Mumbai. Silk, chiffon, georgette, organza…pretty designs in almost any fabric – you can add these beauties to your closet if your budget is anything between Rs. 5000-20,000. The rates would vary as per the material and the kind of work done. And if you are one of those who wouldn't mind shelling some major moolah on designer stuff, an outfit by Vikram Phadnis or Ritu Kumar – best known as bling specialists – are a must try. For a more funky and unconventional appeal, Masaba Gupta (a young designer on the success block) might just suit your taste.
Here are a couple of reasonable places and websites where you can go sari hunting: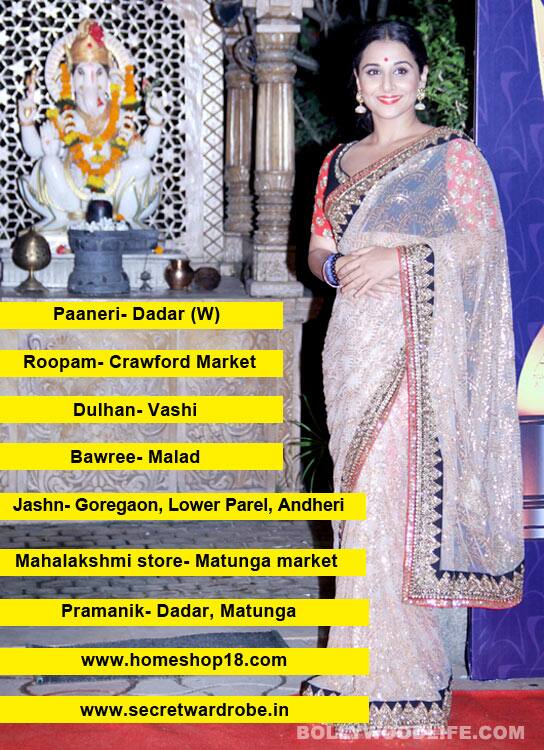 First Published: 5.03 PM IST 01.30.2012