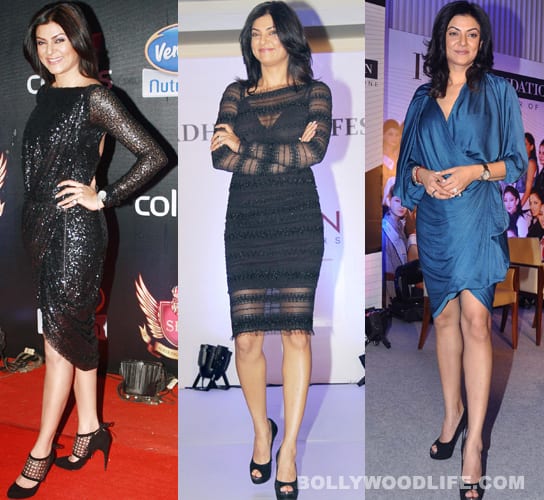 The actor's style seems to be deteriorating with every passing day. And that's honestly the last thing we expected from the svelte and stylish former Miss Universe
Sushmita Sen's attempt to look like a perfect diva goes down the drain every time she steps out in those horrid clothes. If not her outfits, the one thing we would really appreciate are her valiant trials and errors; trials that start with poor sartorial choices and end with erroneous style statements. We have been keeping an eye on her style for the past couple of years now and we truly think her fashion graph is plummeting down instead of rising up. So we dug out a couple of pictures as evidence and… blimey…we were absolutely right! She seriously needs to consider overhauling her wardrobe. She seems to have a penchant for long sleeved sheath dresses – we have no absolutely no issues with that as long as she carries it off aesthetically and doesn't mess up. But that she clearly does every now and then, either with a superfluous belt resting lazily on her waist or by opting for a hideous transparent curtain that she claims is a dress. Also her fascination with drape and wrap patterned outfits is, we assume, one of her style tactics to cover up accumulating cellulite. Nonetheless, we think that Sush, you really need to update yourself with new trends.
And if you need any help, you can always take tips from your 22-year-old young beau. That is, if you are still dating him, of course!