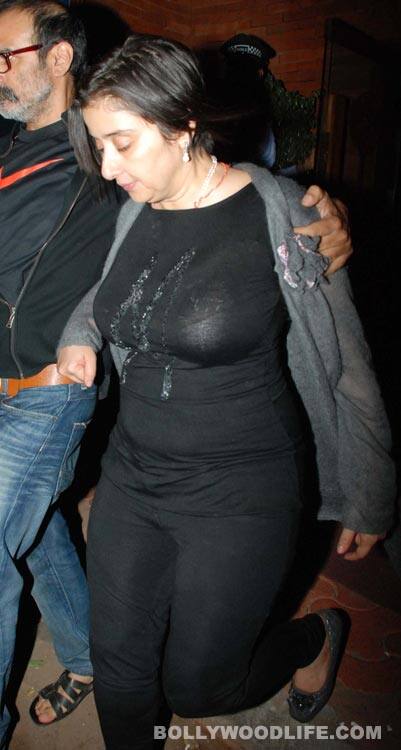 We recently spotted the Nepali beauty at Rohit Roy's bash and for a moment we thought she was the actor's not-so-good-looking older sister!

Seen in a body-hugging black T-shirt teamed with an insipid long grey jacket, Manisha Koirala looked haggard and pale. The wrinkles and double chin showed and the zest to party was clearly missing. If not presentable, this once-upon-a-time bootilicious babe could have at least made sure that she wore the right bra beneath her top. The unkempt hair and the cellulite that keeps accumulating with every passing day….wethinks what's affecting Manisha are her incorrigible habits that we have read so much about. Known for her smoking and alcohol addiction, the Saudagar superstar also has a series of failed relationships to her credit, which is probably one of the main reasons for her stressed-out appearance.
Rumours suggest that the Nepalese actor is working really hard to save her marriage with businessman hubby Samrat Dahal. After a spate of bad affairs, the 41-year-old – we presume – wants to settle down like any other normal woman and experience a happy family life. While we do feel a li'l guilty pointing out her fashion faux pas so directly, wethinks that if everyone can do it, she might take some effort to work on her health and bring the old chirpy and incredibly pretty Manisha back to life. And next time, darling, you might want to shun the messy look and find the right undies – what you show us here is nothing less than horrible!